Using the dynamic features of motion graphics to hook & entertain your audience has been trendy since a few years. Right from the title credit scenes of movies, educational videos to marketing & advertising videos, motion graphics have indeed become the new norm for modern visual communications.
So let's understand what are motion graphics & things to know when making them.
What are Motion Graphics?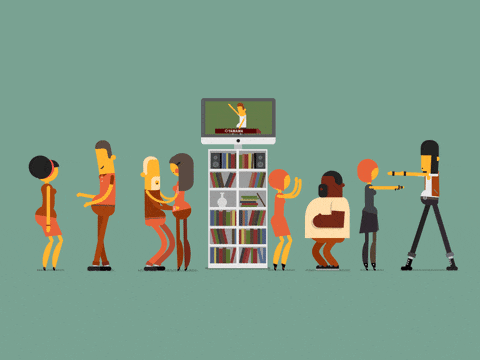 The simplest way to explain motion graphics is that they are animated art. To further explain, motion graphics are sequences of animation or digital video imagery that gives out an appearance of motion or rotation. They are typically used in conjunction with audio in multimedia projects.
Motion graphics is an excellent way to grab users' attention. They make boring static images into lively animated videos. That does not mean that still images are bad, but motion graphics can significantly attract people & keep them hooked for a longer period of time.
Now that you know what are motion graphics, let's explore a bit more about their types. Further, we'll also give you some ideas on making cool motion graphics.
Types of Motion Graphics
Explainer videos
Instructional videos
Logos
User interface animations
Animated static designs
Text overlays
GIFs
Icon
Infographics
Presentations
There are a lot more types of motion graphics. It's difficult for us to pick a favorite. You can carefully ideate or hire professional motion graphics design services, which can make the task simpler for you. We're going to tell you how you can get the dopest motion graphics at cheaper rates at the end, so stick around to find out how.
Things to Keep in Mind when Making Motion Graphics?
Have Realistic Goals
To have a successful campaign, you need to have a solid foundation, to begin with. This is why it is essential to set goals & objectives at the very beginning. But, when doing so, make sure you are not being too impatient or hasty. Set goals that are measurable & achievable.
Consider factors such as your target audience, video length, budget, etc., when making motion graphics for your marketing campaign. Think about what type of video will align with your set goals & move on to the next steps.
Find Professional Motion Graphics Designing Service
If you find it challenging to make motion graphics, you might hire a graphic designer who can do the job for you. But, often, graphic designers or agencies charge a lot. So, if you are on a limited budget but still want top-notch motion graphics, you should go for a motion graphics designing service. Motion graphics services such as Draftss are not limited to just one area of expertise, but a lot. You can design whatever motion graphics you want without emptying your pockets.
Also, Draftss is a subscription-based UNLIMITED graphic designing service, which means you can literally create unlimited motion graphics as long as you are subscribed.
Brainstorm
Just hiring motion graphics designers is not the end of the road for you. You must actively participate in the brainstorming process if you want maximum output. Doing so will also help the creatives to know the exact details of your desired motion graphics.
Be Open to New Ideas
Thinking outside the box & being open to new ideas is a rare trait. But, if you want your campaign to be successful or simply want quality motion graphics for future use, you need to be open-minded.
Understand that the creative professionals that you hire(graphic designer, agency or service) might actually know insights on what works the best in the industry & if they are sure about altering a few changes to your motion graphics-be acceptable. Of course, if you still want your project exactly as you desired, you may have it your way too.
To Wrap Things Up
We hope that you understand the gist of what motion graphics are. So, if you plan to get started, you should definitely check out Draftss's Motion Graphics services.
For more such informative articles, go to our Graphic Designing blog page. We constantly strive to give out as much information as possible on a regular basis.