Before starting our fight over Webflow vs Squarespace. Comparison in websites is among the most essential marketing elements for small businesses. Similarly, Ecommerce is on the rise. However, most shoppers in 2023 check the results in a search engine even before shopping in a brick-and-mortar store. Therefore, to give your product or service the best possible digital presence, you need a well-built, exciting, and eye-catching website.
Draftss has also helped its clients to develop substantial e-commerce platforms with unlimited graphics designs, illustrations, WordPress, HTML, and more for building your website, brand, etc. you can check on our website at draftss.
Above all, at the same time, most small business owners don't have degrees in information technology (IT). Similarly, they have a great deal of time on their hands to build a website from scratch. However, hiring a contractor to do the job for them can be prohibitively expensive.
In conclusion, this article will look at Webflow vs Squarespace in terms of features and capabilities, pricing, and each platform's specific pros and cons to determine which website creator is best for your small business.
---
Webflow Overview
San Francisco-based Webflow is a website builder that offers a drag-and-drop interface. However, Websites designed with Webflow are highly customizable, and creating a site requires no coding ability. Above all Webflow accounts for roughly 0.3% of websites in existence, with 45,000 paid users and 4 million visitors a month.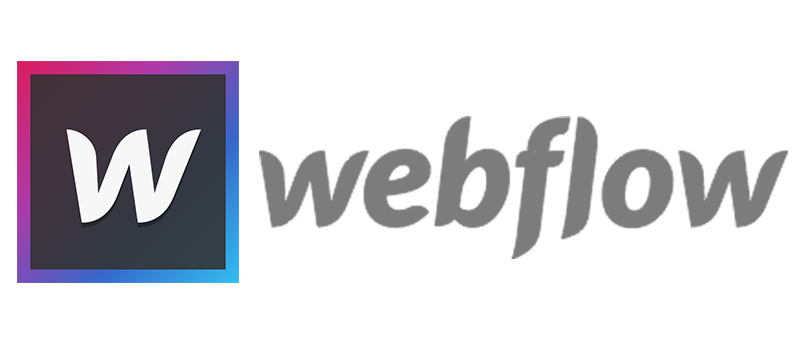 Webflow Features and Capabilities
Similarly, Webflow's website builder offers an impressive array of features and capabilities, especially in its higher pricing tiers.
Web Design
Webflow uses CSS grid-powered layouts and offers 2,000+ web fonts, reusable and editable symbols, and eight CSS filters for all elements.

However, the Code of Webflow is exportable, and the platform also accommodates custom code. 

Webflow also features global swatches, and its images are responsive to all device sizes.
Motion Design
Components
The list of components you can use while designing a site on Webflow is impressive. It includes the following:
Customizable forms

Tabs

Sliders and carousels

Interactive Google Maps™ 

Responsive website navigation

Social sharing buttons

Dropdown menus

HTML embeds

Background videos

Lightboxes
Website Management
However, Webflow offers the ability to bill clients directly from Webflow. Similarly, sites designed on this platform support custom favicons and web clips as well as HTML and CSS export.
Above all, Webflow also allows the creation of custom 404 pages and offers project folders and password protection. However, Webflow also automatically backs up and versions your website (keeps track of previous versions of the site before you made changes, which is especially useful for reverting to a previous iteration).
---
Squarespace Overview
New York City-based Squarespace is another subscription CMS and hosting platform that uses a drag-and-drop interface. Similarly, Squarespace has over 3 million users, which account for 2.6% of all websites worldwide.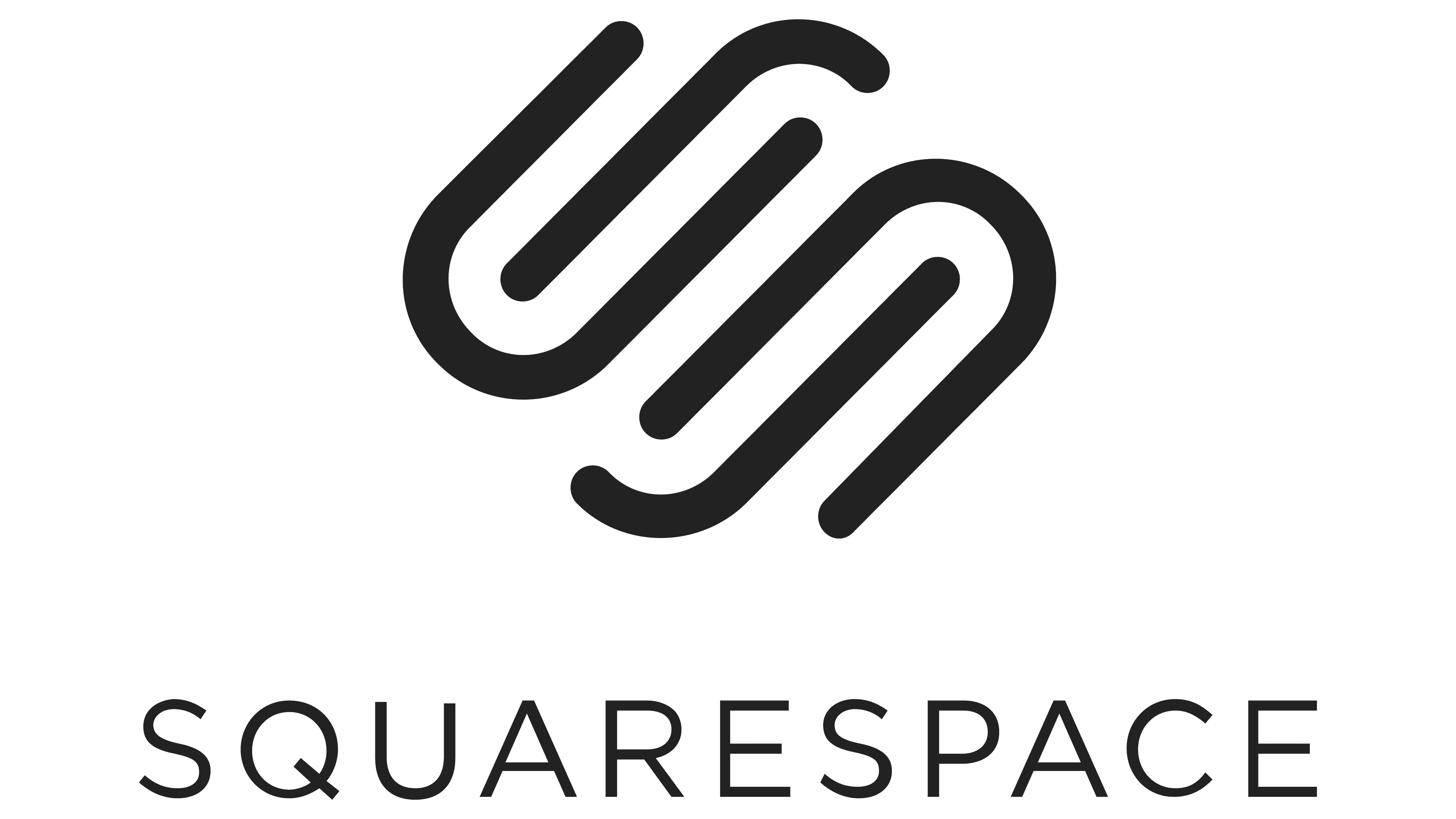 Squarespace Features and Capabilities
The Squarespace website builder offers quite a variety of features and capabilities.
Components
Squarespace offers the following components to incorporate into your website: 
Text

Photos

Videos

Audio

Galleries

Products

Newsletters

Sign-ups

Appointments

Calendars

Tour dates

Reservations

Menus

Forms

Maps

Links

Files

Social links

Buttons

Quotes

Custom code

Charts
CMS
Squarespace's drag-and-drop content management system (CMS) interface is highly user-friendly. In addition, it allows multiple contributors and access levels and the ability to duplicate pages and sections.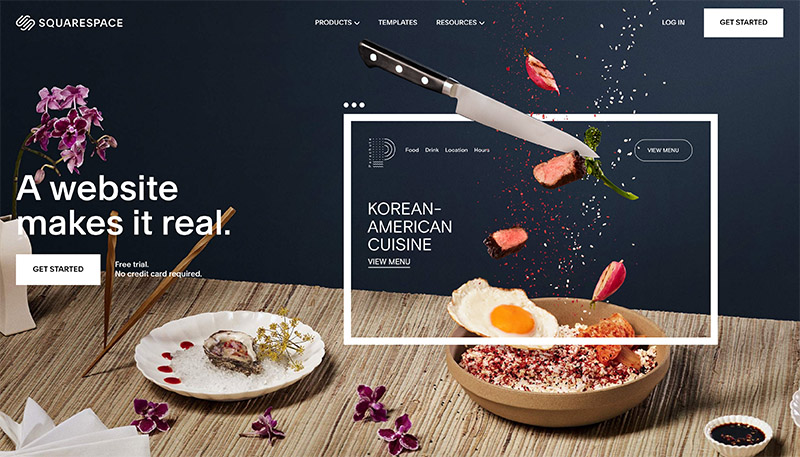 However, every website designed on Squarespace is also automatically optimized for use on mobile devices. Similarly, Squarespace even has an app for both iOS and Android. Therefore, its app allows you to add and edit new pages, write and edit new blog posts, add photos, make style changes, and review traffic analytics.
Blog
Squarespace offers one of the best blogging systems available. However, you can have multiple blogs on the same site, and the blog templates are gorgeous. Above all, you can even create and post podcasts from Squarespace's blog interface. Similarly, Squarespace's integrated commenting system supports threaded comments, and all comments have their own individual "like" counts. 
Therefore, the commenting system includes content moderation, bulk comment management, community management, abuse filters. However, they are also customizable settings, like setting a cut-off date after which comments are automatically disabled.
---
Webflow vs Squarespace Ease of Use
Moreover, the user-friendliness of a website builder's interface is paramount for anyone new to creating a site.
Webflow Ease of Use
Webflow has a steeper learning curve than some other website builders. Similarly, while the drag and drop functionality is convenient, it takes beginners a good bit of trial and error to figure out how to properly place elements on the page. Generally, Webflow seems to be designed for use by professionals although, with a little time spent figuring out the interface, a beginner can create a site as well.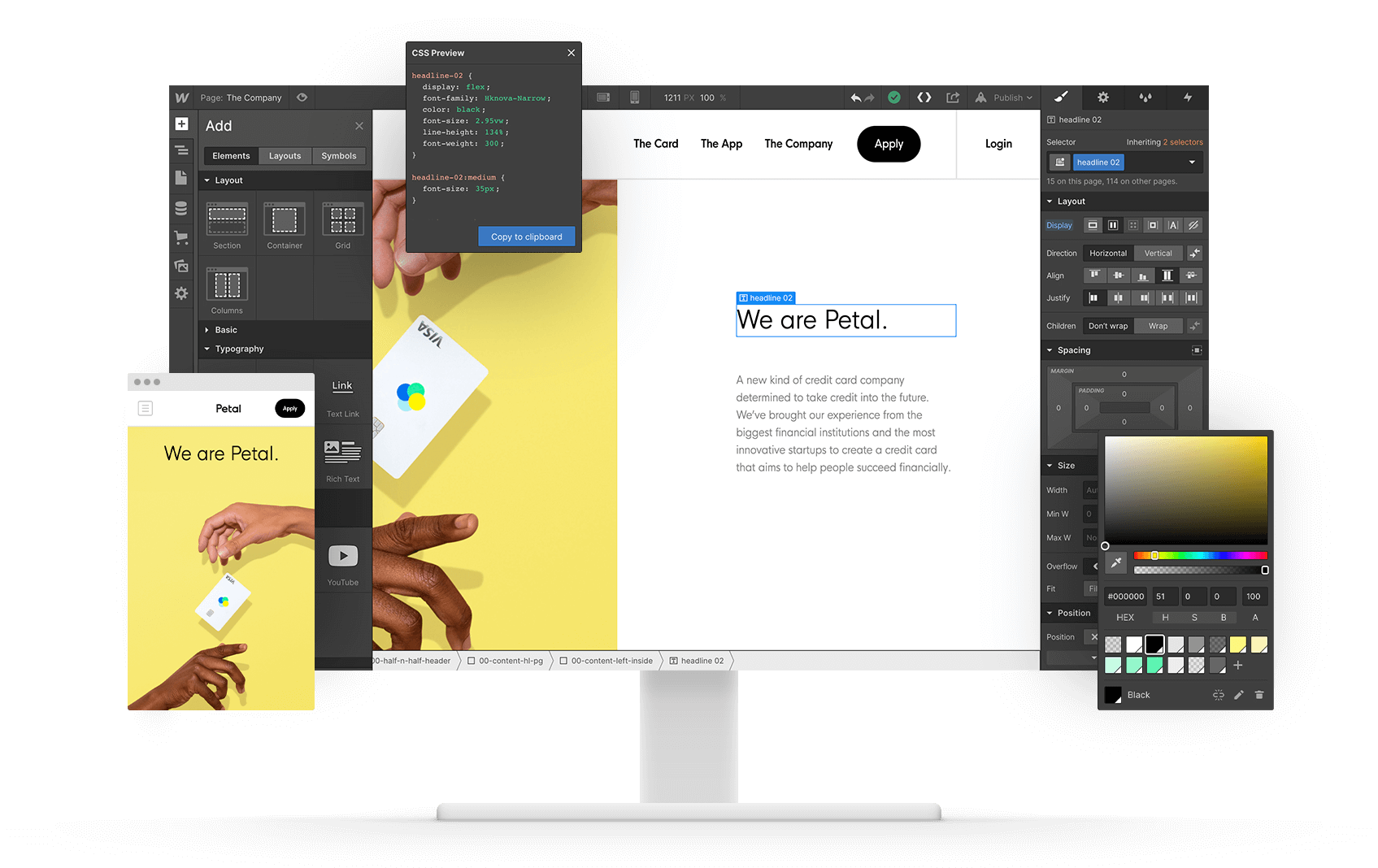 Squarespace Ease of Use
Squarespace's interface is extremely user-friendly. Like Webflow, it has drag-and-drop functionality, but it is much more intuitive than its competitor. The interface on Squarespace seems to be designed for beginners.
Ease of Use Winner: Squarespace
This one is no contest: Squarespace is by far more user-friendly than Webflow.
---
Webflow vs Squarespace Apps and Plug-Ins
Apps and plug-ins are extensions you can download for your website to add functionalities.
Webflow Apps and Plug-Ins
Above all, Webflow supports dozens of integrations, including Google Analytics ™, Google Optimize ™, Zapier, Google Domains ™, and Mailchimp.
Squarespace Apps and Plug-Ins
Squarespace supports 25 extensions, including some of the most popular programs.
Apps and Plug-Ins Winner: Webflow
For its pure volume of available apps and plug-ins, Webflow takes the gold.
---
Webflow vs Squarespace: E-commerce
Ecommerce is highly important for many small businesses. However, online stores continue to increase in popularity.
Webflow Ecommerce
All Webflow Ecommerce Plans include the following features:
Design:
Custom checkout

Shopping cart for customers

Custom product fields

Email customization

Integrated CMS for blogs
Payments:
Stripe ™ Power Payments

Automatic tax calculation

Apple PayⓇ and web payments

PayPalⓇ support
Marketing:
Facebook and Instagram integration

Google Shopping ™ integration

Google Analytics integration

Mailchimp integration

Custom code
Management:
Manual shipping rules configuration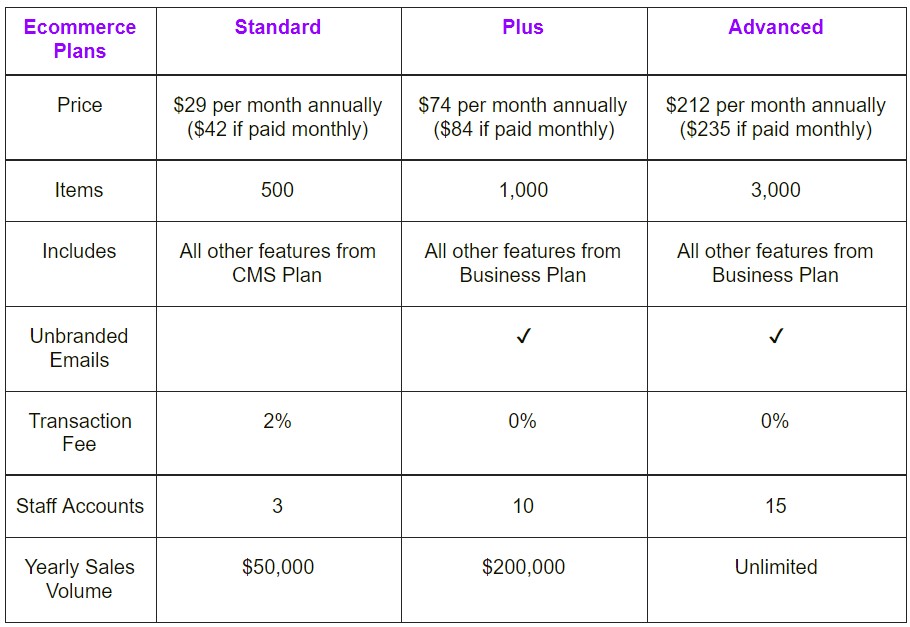 Squarespace Ecommerce
Similar, Squarespace, an online store can be added to any site with a few clicks. In addition, Squarespace e-Commerce includes:
Unlimited products

Rich product listing, including descriptions, images, videos, related products

Catalogs for product makes browsing easy

Product quick views

Scheduling of products

Inventory panel

Notifications of inventory

Inventory API

Stripe and PayPal

Afterpay

Surveys
Ecommerce Winner: Squarespace
However, with multiple gorgeous online store templates and unlimited products, Squarespace edges out the competition.
---
Webflow vs Squarespace Pricing
How much does it cost to make a website on these website builders? However, read on to see which one better fits your budget.
Webflow Pricing
For instance, Webflow offers three pricing tiers each for Site Plans and Ecommerce Plans.
Above all Webflow Site Plans include a custom domain, 100 pages, backups and versioning, rapid page loading, password protection, SSL and built-in security, advanced search engine optimization (SEO) controls, and immediate scaling.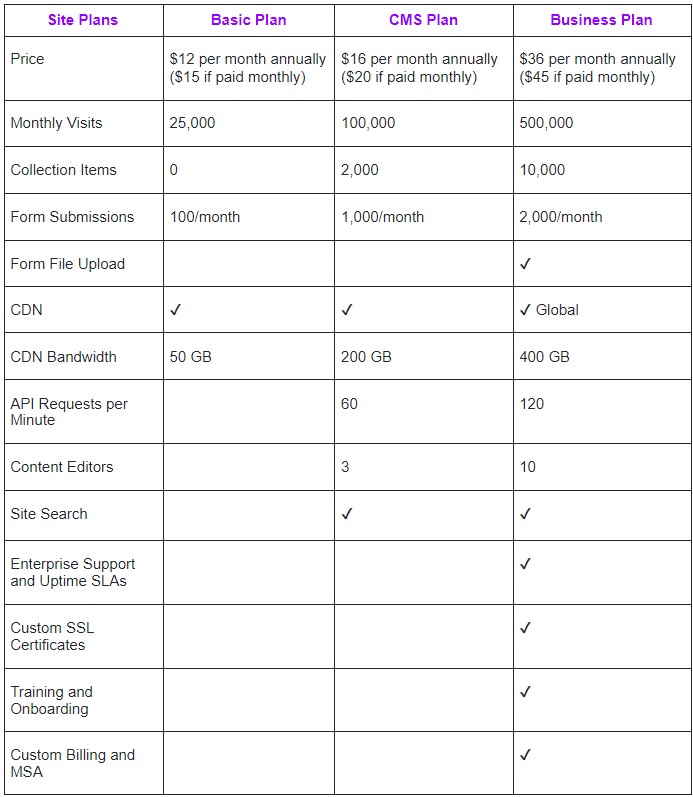 Squarespace Pricing
Similarly, Squarespace offers four pricing tiers: Personal, Business, Basic Commerce, and Advanced Commerce. Above all plans include the following features:
Free Custom Domain (if paid annually)

SSL Security

Unlimited Bandwidth and Storage in addition

SEO Features

Customizable Templates

Mobile Device Optimization

24/7 Customer Support

Basic Website Metrics

Squarespace Extensions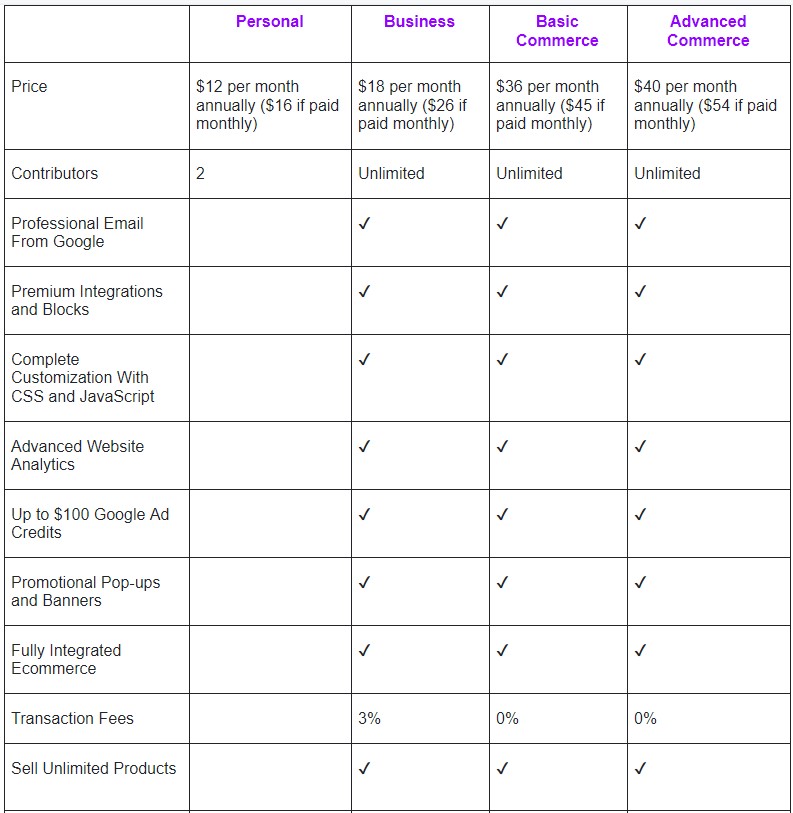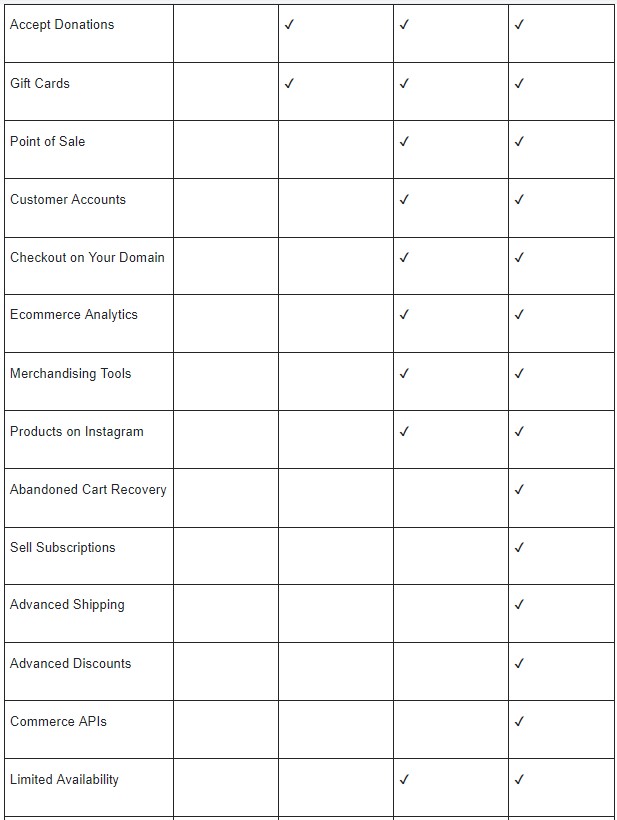 Pricing Winner: Squarespace
Similarly, Squarespace is the more affordable option if your small business needs an online store.
---
Webflow vs Squarespace: Marketing and SEO
Similarly, SEO determines where your website stands in results when potential customers conduct online searches for products on search engines like Google or Bing ™.
Squarespace Marketing and SEO
Squarespace offers the following SEO boosting features:
Site map

SSL certificates

Clean HTML Markup

Automatic tagging

Clean URLs

Automatic redirects

Search engine and page descriptions

Accelerated mobile pages (AMP)

Google rich image search for products

Built-in mobile optimization

Built-in meta tags

Search Keywords Analytics

Structured data
SEO and Marketing Winner: Tie
In conclusion, Webflow and Squarespace offer similar SEO-boosting features.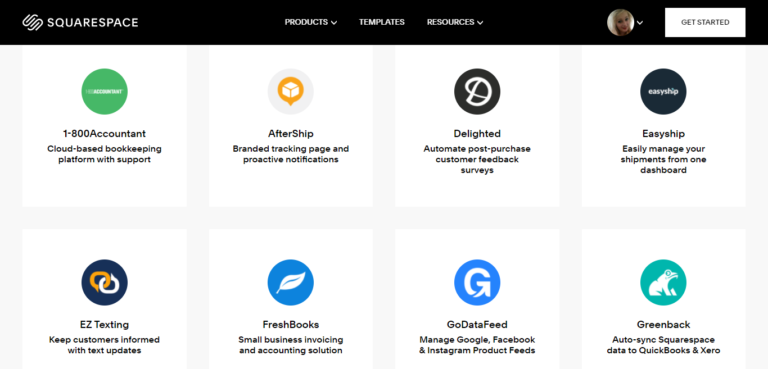 ---
Webflow Pros and Cons
Pros:
Fully customizable templates

Drag-and-drop elements

Quickly view the website as it appears on a desktop, tablet, mobile phone in landscape, or mobile phone in portrait mode
Cons:
Design interface may be too complicated for first-time page designers

Pricier than some Webflow alternatives

Some users find customer service to be lacking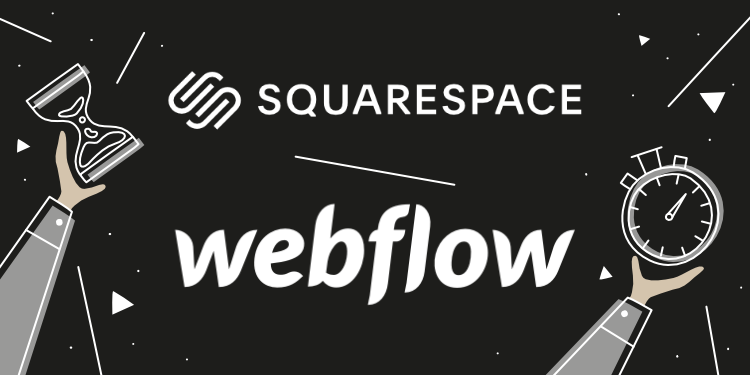 ---
Squarespace Pros and Cons
Pros:
Very user-friendly interface

Attractive, customizable templates

Top-notch image management options

Excellent blogging features, including podcast capability

Highly useful mobile app
Cons:
Does not autosave

Some templates have a slow loading speed compared to some Squarespace alternatives

Limited payment gateway options
---
Bottom Line
In conclusion, when considering Webflow vs. Squarespace, Squarespace comes out on top, especially for its Commerce Plans.
Above all, Squarespace's interface is ultra-user-friendly, unlike Webflow's more complicated platform. However, even a small business owner with zero website building experience. Above all, find it easy to set up a gorgeous website with Squarespace. In addition, the impressively useful mobile app adds to this advantage. However, Squarespace's blogging options also set it apart. In addition, the blog templates are eye-catching and offer every functionality one could want. Therefore, this is one reason Squarespace is consistently ranked among the top platforms for blogging.
You can try out draftss for an excellent experience and increase your product marketing. We provide premium quality services on unlimited graphic designs, WordPress, Webflow, HTML, Illustrations, Websites, Landing pages, Dashboards, App UI/UX, and many more. Here we provide our clients with 73+ types of design and code services.
Finally, Squarespace's e-commerce pricing plans are much more affordable than Webflow's. However offering the same flexibility, features, and mobile adaptations.
---