Social Media Marketing jobs are sought after more than ever. As the brands recognize the relevance of social media, social media marketers are in high demand. In fact, there has been a staggering 1357% increase in social media positions listed on the LinkedIn platform since 2010. However, that doesn't mean that as a social media marketer you can get the job you want without effort. More and more people are opting for a career in social media marketing. Tempted with a variety of job options and the exciting world of social media, the competition among social media marketers on the job market is growing fiercely. If you want to create a CV that will ensure you the interview, there is an important step you can't miss – Optimizing Your CV.
Optimization is relevant for two reasons. Firstly, if the employers are using ATS (Applicant Tracking System), optimization will ensure that the system validates your CV as relevant. Secondly, hiring managers to receive dozens or even hundreds of CVs and optimized CV has a better chance of attracting their attention.
Not to mention that as a marketing wizard you are expected to know a thing or two (to say the least) about optimization. Thus, Optimizing Your CV is another way to exemplify your skills.
Now that the relevance of an optimized CV is established, let's jump straight to tips for Optimizing Your CV.
Optimizing Keywords in Your CV
Just as in content optimization in marketing, keywords play a relevant role in CV optimization. Your CV needs to reflect the keywords mentioned in the job posting.
Most ATSs aim for a score of 75–80% of relevant keywords. If your CV doesn't meet that requirement, it won't even get to human assessment.
Job listings are your source of crucial keywords. Analyze the job posting and mention in your CV the same keywords.
For example, if the job posting lists under requirements Google Analytics, Twitter Analytics, Facebook Insights, your skills section should include "Fluent in Google Analytics, Twitter Analytics, Facebook Insights." It is as simple as that.
However, only list the skills that you are proficient in. You don't want to face that awkward moment when you have to explain to the new employer how you aren't that familiar with Buffer. The justification "optimization made me do it" won't help you out.
If you want to speed up surfacing the relevant keywords, use an online tool. Use Resume Worded online tool to generate keywords from job descriptions you are interested in. Then, identify soft and hard skills that you possess and you'll get yourself a list of crucial keywords to include in the CV.
Optimizing the UX of Your CV
For your CV to reach a high level of UX it needs to be readable, scannable, and well-organized.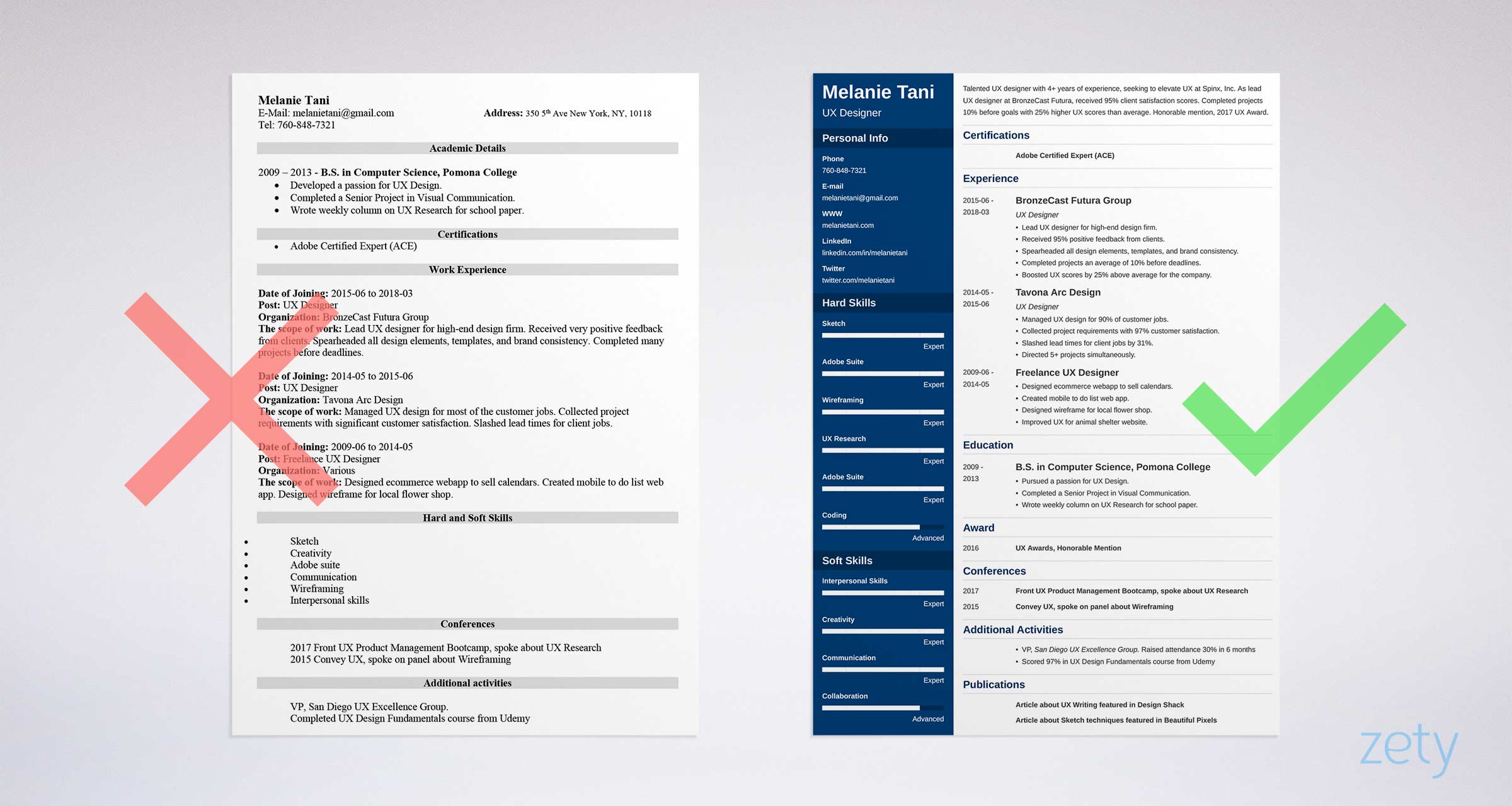 ATS as well as hiring managers aren't fans of big blocks of text. You need to segment the information and use comprehensive formatting for your resume.
Any type of fancy formatting or over-the-top design will take away their attention from what's important – the information about your competence.
To boost the UX of your CV you need to organize and format it properly. Here are a few tips that will help you do that.
Keep it concise and to the point. List only important information.
Organize your CV logically. The most intuitive CV layout is reverse-chronological.
Make clear statements.
Use bullet points.
Use a single font type and minimalistic design.
Segment the sections.
The recruiter should be able to find the information they want within seconds. That's what you should aim for. A single glance at your CV should be enough to clarify whether you have the potential to be their next social media marketer.
Make a Strong Impression with a Great Summary
Hook the recruiters and hiring managers with a great summary. A summary acts as a teaser or an attention-grabbing introduction to the rest of your CV. Use this opportunity wisely.
If you manage to write a great summary, recruiters will be excited to learn more about your social media career. Therefore, they'll pay more attention to your CV's content.
A summary especially comes in handy if you have a lengthy CV. It will convince the recruiters that your CV is worthy of their time. As it summarizes your key skills it will prove to them that you meet the requirements.
"A summary statement can be a powerful branding tool that helps send the message that you're the right one for the job. The best thing about taking the time to put one together is that it not only helps hiring managers to get a clear sense of what you have to offer but also helps you better understand what you bring to the table," shared Lily Zhang, a Manager of Graduate Student Professional Development at the MIT Media Lab.
Additionally, a summary gives you more room to add relevant keywords and boost your CV's optimization.
Consider the following expert tips on how to create an effective summary:
Keep it short, the summary shouldn't exceed 5 concise sentences or bullet points.
Add crucial keywords to maximize the complementation of your CV to the job requirements.
Clearly outline both soft and hard (technical) skills.
Specify your achievements by quantifying them (providing precise information on your achievements).
Personalize the CV
Even if every job position you apply for shares the same title, remember that each job description is unique. Employers can prioritize different skills and experiences and your CV needs to match their requirements.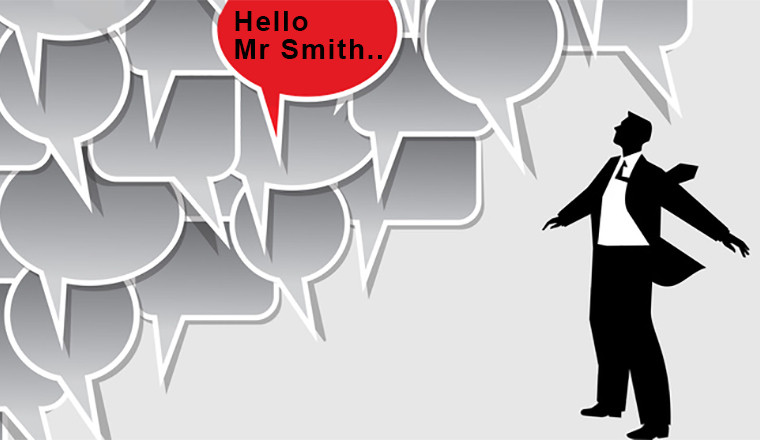 Personalizing your CV to each specific job posting is highly important. Even the seemingly irrelevant difference can change your CV's impact drastically.
For example, if one job description prioritizes the use of analytical tools by social media platforms, you need to include them as your hard skills. On the other hand, a different job description can prioritize social media management tools. You need to adapt your CV to reflect what specific employers ask for.
There is no need for you to create the CV from scratch for each job posting. Write a CV that will act as a skeleton and just make adjustments before you submit it to a specific job posting.
To analyze how well your CV matches a specific job description, you can use Jobscan's ATS testing tool. Paste the content of your CV as well as the content of the job description. Jobscan will analyze them and provide you with instant feedback on what you can improve.
Back up Your Claims with Numbers
If you want your CV to stand out there is a useful method that can help you out with that – use metrics.
Showcasing your successes through numbers can strengthen your claims. Metrics turn your statements into facts.
Highlight your business ideas that have made a positive impact on the client's social media success. Maybe you've boosted a client's social media presence or you've increased their engagement. Whatever you did, prove it with metrics.
For example:
Increased social media engagement significantly by growing Instagram followers from 3,000 to 10,000, increasing Facebook likes by 200%, and regularly engaging with followers.
Show the impact of your work on other people's social media success and potential employers will have a solid reason to trust you.
You can even use a simple formula:
VERB (increased/decreased/saved) X + BY ACTION + BY/FROM, TO NUMBER
(Increased social media engagement + by growing IG followers + from 3,000 to 10,000)
Pro tip: Start your claims with action words and power words. Recruiters will get more interested if you start your bullet points with verbs such as reduced, increased, saved, etc. Also, try to diversify the use of verbs to make an even stronger impression.
Rewrite till Perfection
When you finalize writing your CV you'll probably get that big sense of relief. But not so fast. There is one last crucial step you need to take – edit and proof your CV.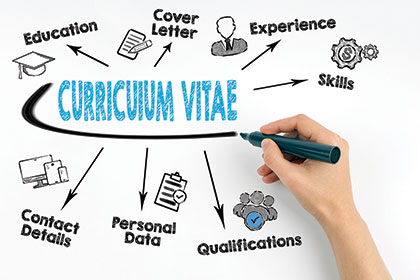 An estimated 77% of hiring managers find typos to be the deal-breakers. They can disqualify CVs just because of grammatical mistakes or typos.
Imagine putting all that effort into crafting the most perfect CV and then getting disqualified for grammar mistakes. We won't let that happen!
Editing and proofreading your CV will ensure that the content is comprehensible, has a natural flow, and is error-free.
You can edit your CV with the help of online tools like Grammarly or Hemingway Editor. Or, if you want to go all out, hire an editor who works for essay writing services. Such services are more affordable and yet very high-quality. If you browse for websites to write my coursework you can come across great writing services with expert editors.
When you are done with proofreading and editing, get someone to read your CV, and assess its comprehension. You can't be objective with your own writing. Besides, you can check the CV's readability by running it through a Readable tool.
If your CV passes all those tests, you can safely start sending it to your potential future employers.
Optimizing Your CV can present that last crossing before you get on the other side of the bridge. It may seem like CV optimization plays a small part in your job pursuit, but the effort you invest in this process can be the determining factor in getting the job you desire.
Also read, "Graphic Design: A Great Way To Earn A Living As An Artist".