To make E-commerce mobile app designs for turning online shopping into a high-end shop. However, a joyful experience has become an irreversible trend. Especially under the circumstances where the number of global smartphone users keeps rising at a crazy speed.
Draftss has also helped its clients to develop substantial e-commerce platforms. With unlimited graphics designs, illustrations, WordPress, HTML, and more for building your website, brand, etc. you can check on our website at draftss.
We face the limitation of the mobile screen size. Designers have to think hard to make the UI of shopping apps simple, intuitive as well as visually appealing. Here, we've prepared a delicate collection of the best eCommerce app designs for you to start from.
1. Apparel design series
Highlight: color matching, diffuse shadow
The highlight of this app design is that the color matching is very bold and the combination is very rich. Firstly, the color matching App interface adopts the most popular diffuse shadow effect at present, and its style is Android Material design style.
There is no doubt that such a color-rich App design can not only quickly get the attention of users, but also deliver a pleasant experience while scanning.
2. Household items series
Highlight: flat design, simplicity
The characteristics of this app design are its simplicity and layout, leaving the first impression that it's clean and delivers a feeling of being comfortable & relaxed at home. This is a typical simple flat style E-commerce App interface design. Here the details page on the right hand is in a card style, clear and elegant.

3. 3C notebook design series
Highlight: gradient
The gradient can be one of the most used design approaches by designers, and of course, it is available in various mobile designs. This app is design works well with gradient colors. Allowing users to click the "show more" button or buy directly with ease. Finally, we have to say that the use of gradient is one of the important methods for app designers to get their designs appraisal.
4. Product display shopping series
Highlight: black and white matching
It's noticeable that most eCommerce Apps or websites have applied black and white as their main background color, for its contrast and readability.
Meanwhile, its neat appearance allows users to browse the site freely and make them feel easier to find what they need with high satisfaction. This app design is based on black and white color with gray gradient, no visual noise at all.
5. Gourmet ordering series
Highlight: contrast, white space
It seems that most of such apps like using high-saturation and contrast-colored interfaces to arouse the temptation of food. The app design is bold in color. But at the same time has an appropriate white space to give enough room for important content (such as pricing).
Besides, the pace spacing of the app is under control, and the overall appearance of the page is transparent. Moreover, not only does it give users room for thinking and imagining, but also gives users a good guide to have a smooth visual experience.
Only 4 steps to create your best E-commerce app designs!
From the best eCommerce app design examples above, we can see that those good e-commerce App designs pay much attention to layout and color matching. But according to the different purposes of Apps, the user groups they face, and different pages in the App (such as the Home, Start, Welcome, Profile, Help & About, etc.), there will be different emphasis needed in the specific design.
If you are looking to create satisfying E-commerce app designs, here we will give you a step-by-step guide by setting the example of

Mockplus

– an excellent eCommerce app builder.
Step 1 – Launch and open Mockplus to create new project. Select "Mobile" and choose the page size to your liking, including:
iPhone 6,6S,7,8 | 375 x 667

Windows 10

iPhone 6+, 6S+, 7+, 8+ | 414 x 736

iPhone X | 375 x 812

Android, 360 x 640

iPhone 5, 5S, 5C, SE | 320 x 568
Step 2 – Click "Select template" or choose "Create a page from templates" within the project, and you can import the ready-made templates to get started quickly. The built-in templates are beautiful crafts and it has various categories for your selection. Mostly, you can select the individual page needed, such as the Welcome page, Startup page, Personal Information page, Search page, and Help page, etc.
Step 3 – If you want to create a more customized project based on the practical eCommerce app development needs.  Moreover, you can take advantage of the ready-made components and features of Mockplus to make rapid prototyping, such as:
Auto Data Fill – it supports batch fill of images and text, which saves time and effort largely.
Repeater – it allows you to make a repetitive layout with just one click.
Step 4 – After the layout of the interface has been completed. However, you can also make use of the MindMap or UI Flow features to better preview and adjust the page structure and layout. Moreover, there are three different interactive support, including Interactive Component, Interactive Page as well as Interactive State. Moreover, the interactions can be created easily with just drag-and-drop, simple and intuitive.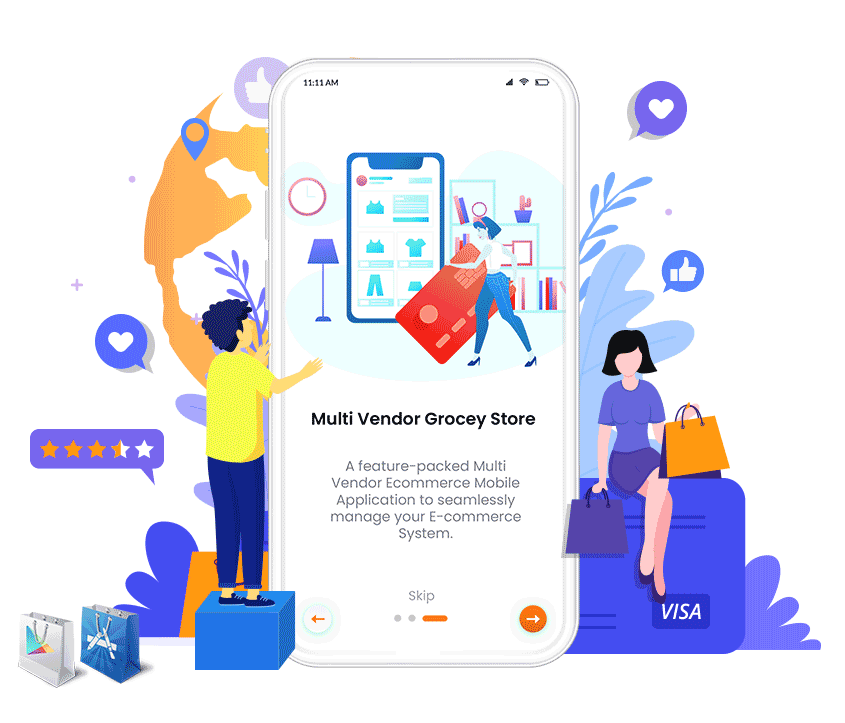 CONCLUSION
Above are the examples that we've handpicked based on our long-time researches and many user reviews for your eCommerce mobile app design inspiration. However, we do think a good tool can twice the power of your design. Here, Mockplus is highly recommended for turning your awesome ideas into a functional product and make eCommerce application development a breeze!
You can try out draftss for an excellent experience and increase your product marketing. We provide premium quality services on various platforms. Unlimited graphic designs, WordPress, Webflow, HTML, Illustrations, Websites, Landing pages, Dashboards, App UI/UX, and many more. Here we provide our clients with 73+ types of design and code services.