If it wasn't apparent before COVID-19, it is now 'written in stone' that our world can entirely work and depend on the use of internet. This trend has taken over all aspects of our life including the way we shop for products and services. Starting from buying groceries for the house, to hiring a handyman service, everything can be done on the internet. However, this has generated its own sets of issues for the business community- the need for an effective online advertisement strategy.
Advertisement online is not so simple as putting up hoardings and distributing pamphlets in the physical world. They demand a great deal of brainstorming, collaboration, creative graphic designing and targeting audience. 
After years of research on tried and tested ways that have worked wonders for the business community, there are some essential areas of online advertisement which needs to be worked upon in order to make a successful ad campaign.
Consider Every Platform as Unique:
While designing advertisement campaigns one needs to consider different online social media platforms as what they are- Unique. Therefore, one should work on designing unique posts for different platforms.
Example. 1: Facebook  
Facebook's interface is designed in such a way that the users do not have to read too much of information in a post and rather look at pictures or images to like them and follow. An intelligent Facebook Ad reflects this point and works around with how the people are using this platform and their attention criteria to posts.
Do's:
In the above Facebook Ad of Nike, a person looking at it is not forced to read too much information and is rather able to enjoy the beauty of the product. They are prompted to a 'do it yourself' page where they themselves can see a customized product according to their choices. This creates a sense of engagement with the customer and goes a long way in taking the brand further. A big picture with no blank spaces is an attention seeker.
Don'ts:
In the above Udemy ad, you can see that the graphics are abysmal at best. The same written information is placed in the graphics of the Ad which becomes redundant and boring for any user to see. The space for attractive and beautiful graphics is wasted with a picture of person which does not convey any message to the user.
Example. 2: Instagram
Instagram is probably a more comfortable platform than Facebook where more social media users are engaging nowadays. It has been designed in a way so that users can share beautiful images, picture, mini-videos and designs with each other and keep people talking. This idea of the platform should not be forgotten while designing an Ad for it. Instagram provides an amazing opportunity to showcase your products in a beautiful way via its sponsored posts too.
Do's: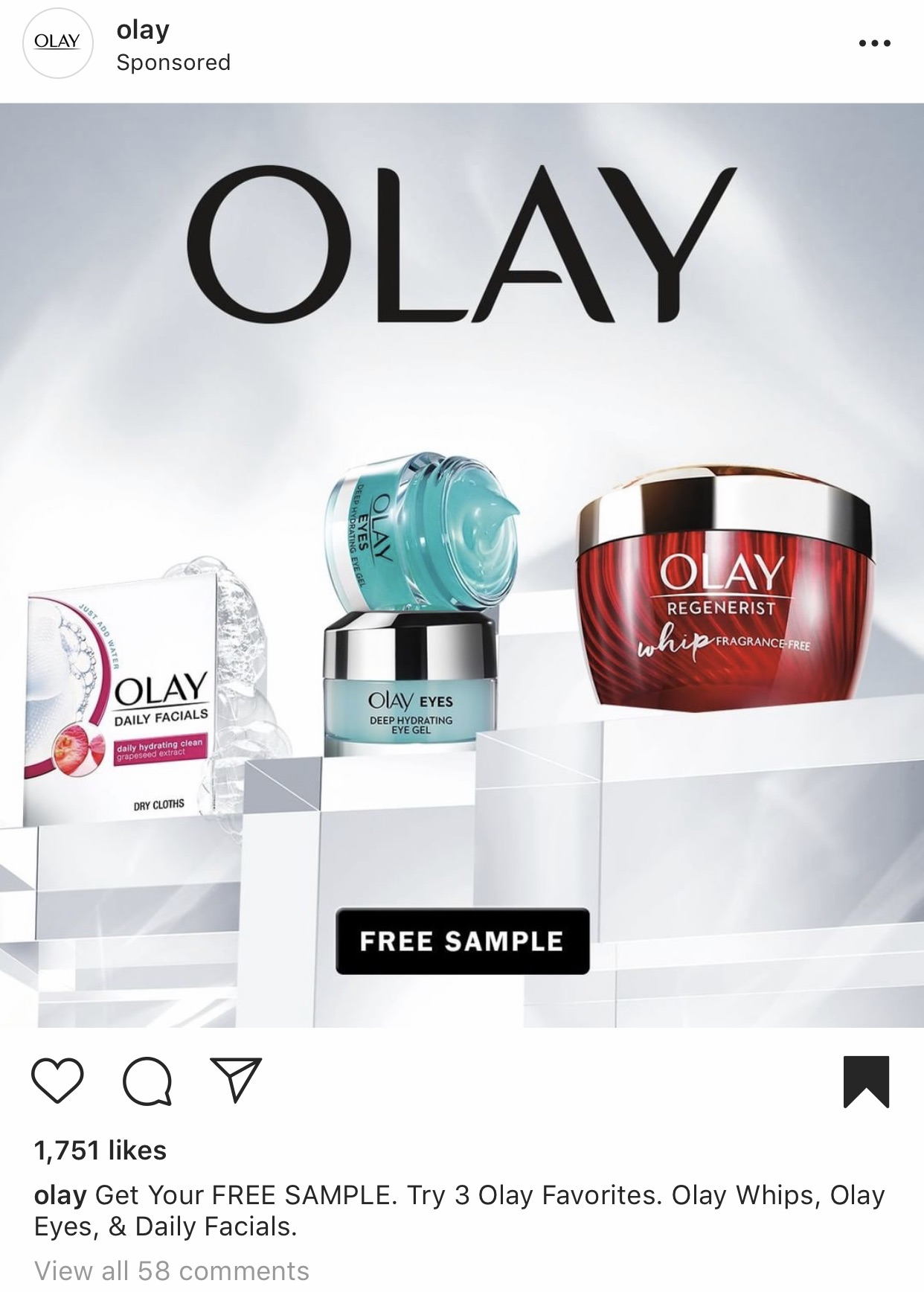 In the above Olay cosmetics ad, the graphics team has worked wonders in making a beautiful and comforting post for the users to see. The idea here is 'a picture is worth a thousand words'. There is also a suggestion to try these beautiful looking products through their free sample offer.
Don'ts:
You can see the blunder in the above Instagram ad here. The image of the product is not clear and white exposure to the light is destroying it. The message here is unclear as well. The space could have been used to show the product in a better light. The colour scheme used here is also not very attractive.
Example. 3: Youtube
Youtube is an amazing video platform where you can find videos of any topic you wish for. After years of people making and uploading graphically genius content on the platform it has become one of the most influential tool for digital marketing. Almost 500 hours of videos are uploaded on the platform every minute which makes it one of the most used internet platform after Google. One can basically consider Youtube as the new age television sets. This is a haven for online advertisement campaign.
Youtube provides various placement options on the website for brands to advertise their products. Therefore, it becomes quite important for any ad campaign to design targeted ads for the potential customers of their product. The platform is embedded with the Youtube Adsense software which when smartly used gives you an edge to understand the traffic relevance and helps you put your money where it will get the highest returns. Video ads aside there is a huge scope for graphically static ads here as well.
Do's: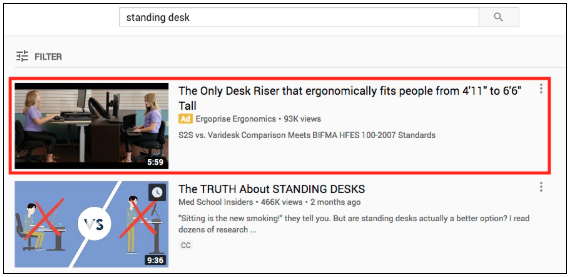 Here, the user has searched for a specific topic of standing desks and can be most likely converted into a potential buyer of this product. This is an excellent example of targeted ads and should understood in the sense of use of your product. The use of highly relevant 'key words' that describe your product can be incorporated into the Youtube Adsense software which will reflect your ads at the most opportune place and search results.
Don'ts: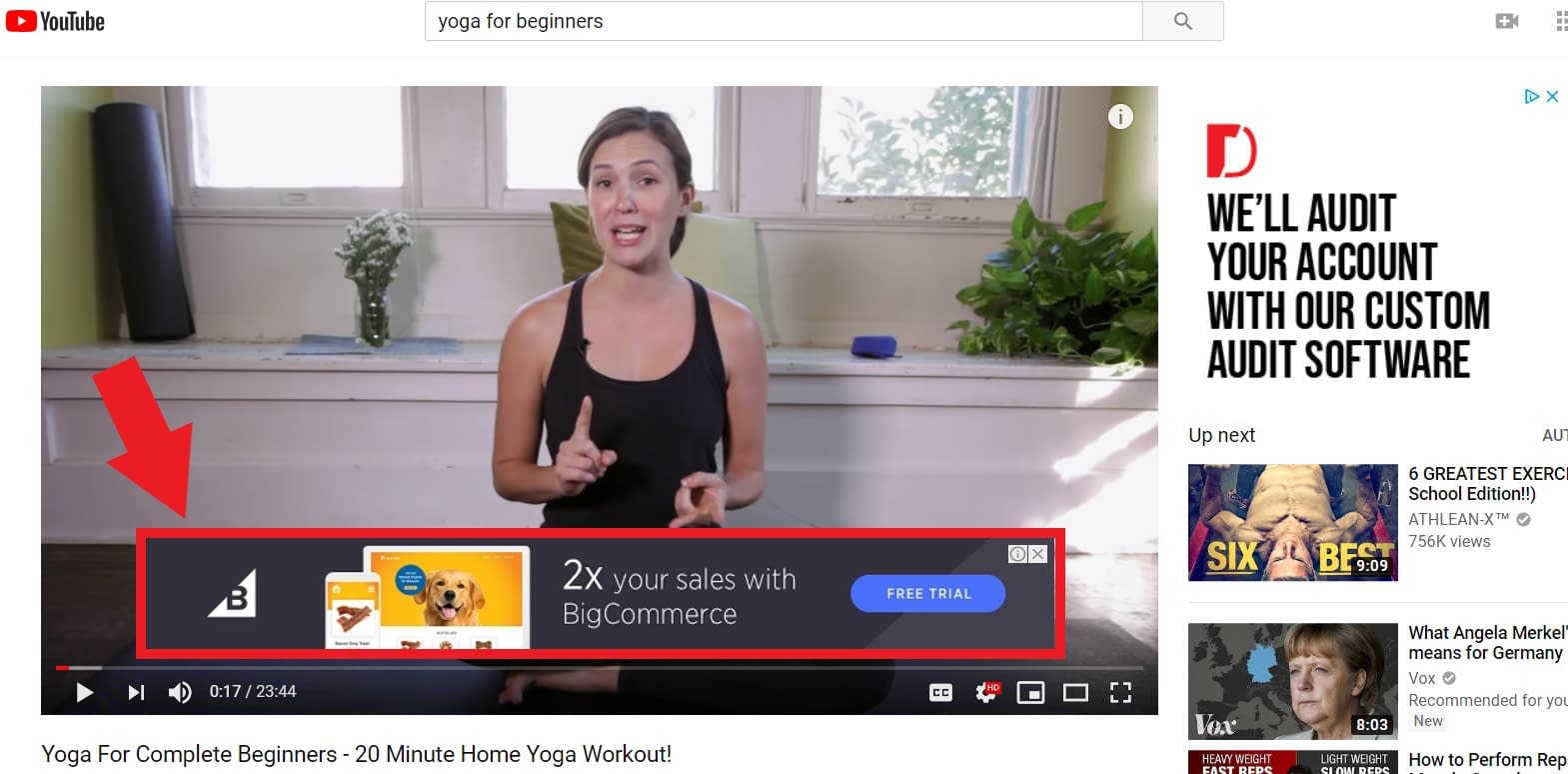 In the above example, the user is searching for a 'Yoga video' on the platform and has selected a specific time-specified tutorial video. The bumper ad reflected on the video has no relevance with the topic of the video the user trying to watch. This just creates a distraction for the user and is an issue with the wrong key words being used for targeting traffic on the platform. 
Google AdWords:
Google AdWords or GoogleAds is a service that Google provides to advertisers in which they can bid on certain key words, which when searched upon Google's search engine would reflect their advertisements on top of the results. When you search for any product or service on google there is a space for at least 3-4 ads before the organic search results, therefore the ranking of those ads play an important role. Your chances for taking the top spot in the ranking does not only depend upon the highest amount you are willing to bid but also upon the relevance of your content with the search demands. It is great tool that is supported by Google's data analysis software and would provide you with an understanding of the right key words for your advertisement and content. Manage it well and get the most out of it.
Social Media Influencers :
Advertisement can be done in many unique ways on the internet these days which can involve not just direct ways but also passive ways like taking the help of Social media influencers. There are thousands of people with unique and amazing content on social media platforms like Instagram, Facebook and Youtube that have a huge audience base which follows them regularly. These people and their accounts have generated such massive followers by years of hardwork and dedication in content generation and beautiful posts. Their posts are a huge conversation starter which is the best way to take your brand to places. When they endorse your products online, it goes a long way than traditional advertisements. They can be considered as brand ambassadors for your products.
The Verdict:
Some outdated ways of advertisement should be avoided at all costs like Flash Ads and Ads with disturbing graphics. With years of looking at these Flash ads, people have developed a 'banner blindness' for such ads and start looking to close them without even reading them. Color scheme, fonts, placement of the ads and relevance are areas of extreme importance in design strategy. A good amount of consideration should be placed on what type of platform one is placing their ads on and create unique ads for every platform that are graphically beautiful to watch.