Graphic design is defined as the art of the practice of planning and projecting ideas and experiences with visual and textual content. 
Elements and principles make up the graphic design, so it's important that a graphic designer understands all the elements, such as color, form, line, shape, size, and more. 
There are basically six steps involved in graphic designing that a professional must know; they are explained further below.
STEP 1- REVIEW THE DESIGN BRIEF
A client may get in touch with you by email or phone proposing a design project. If your client is new, they may expect an initial face to face meeting before proceeding to the quote stage. A Graphic design, in brief, is a document that captures any vision for a creative project and outlines the client's expectations for the end result. Starting with a blank page and creating a brief particularly challenging. Fortunately, independent designers on Creative Market have built flexible templates that you can adapt to your own needs and brand identity. It's better to go through your brief several times as it helps to re-evaluate and it's always good to keep making changes accordingly until satisfied.
STEP 2- RESEARCH AND DISCOVERY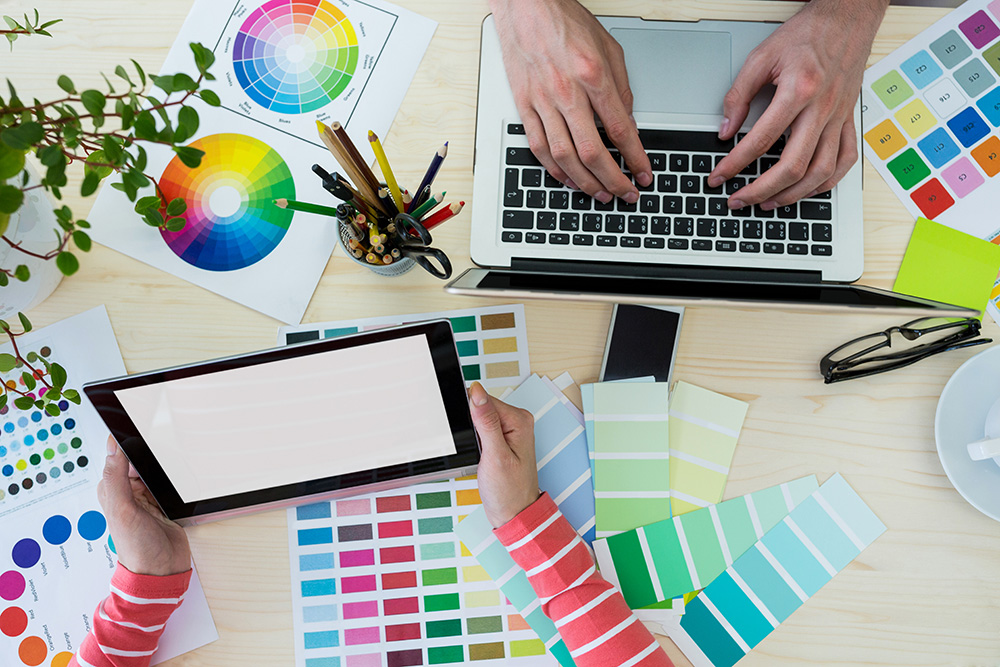 The research will help you to become a better designer, and it will save you a lot of thinking time. This is the second and most crucial step in the graphic designing process. Even you can use some graphic design software like Adobe Photoshop, that's available in the market. When you research, you become more engaged with what the client needs and wants, which will make your design far more superior and acceptable than the rest. Don't skip this step if you are entering a freelance design contest at least or if your client is looking out for other designers as well. Even a little time spent on research will advance your graphic design to a level that nobody can compete with. 
Therefore, research and discovery are a very important step in graphic designing which will synchronize your ideas and thoughts as one, and it will help you go with the flow and therefore making your design work exceptional.
STEP 3- BRAINSTORMING AND SKETCH CONCEPTS
Brainstorming is the situation where a group of people made to generate new ideas and solutions around the specific domain of interest by removing inhibitions. All ideas and noted down without any criticism. This is one of the important techniques in graphic designing as many people focus on doing one single task, and that helps to create a unique design as many minds are working on it. Also, while brainstorming, you do need to keep in mind the concept of quality over quantity. A number of brainstorming software programs help to assist the process.
After you pulled all your ideas together, then it's time to start making symbols or sketches to be used in the design. You have to make sure, and you don't forget the latest designs and the trends that are going on in the present date so that your work doesn't look like it's lagging behind. Make sure that you do make a framework of your ideas before you start so that you haven't missed out on anything that has come to your mind. Do not forget the time constraint that you have and sketch quickly but in detail. It is better to go first on pencil and paper and then digitally produce it so that it saves your time. The main benefit of sketching is it allows you to create designs quickly and easily without any limitations.
STEP 4- BUILD ON YOUR CONCEPTS
In this step, you need to develop a few different finished concepts that are easy to digitize since you created the sketches already and give your client a wide array of designs to choose from. When the client feels that you are giving him enough options, he or she might prefer you as his designer, and you might end up getting the contract.
If it's possible and if your client seems like the one to understand, then you must explain your concepts to your client in a design rationale. It is important that your client understands the reasons behind each concept. You could also explain your client in context to the research work that you have done, which will make you look more knowledgeable to your client. It is essential to love your own concepts, do not create something you don't like because then you might end up getting upset if in case the client chooses it. Listen to your client carefully and analyze their feedback when they share their perspective on the design they want. Hereon you can be more attentive to one particular design which the client has chosen finally.
STEP 5- EVOLVE AND ITERATE YOUR CONCEPT
At times your client might want to mix and match from some of you for all of your concepts that you had previously presented to him. So, you need to keep in mind that it is not unusual for clients to make requests for little changes in the main design. They might ask you to make changes at any point in time, and you must be ready for it. But if making the changes according to your client crosses the boundaries of your budget or time constraint, then you must communicate this to your client and let him know the consequences. The main key to graphic designing is to keep up the communication with your client.
Don't ever be afraid of giving your expert opinion on what looks best. Do not forget that you are the Creative Lead of this relationship, and the second most important thing is to be assertive, not passive. There is a balance to keep between keeping the client happy and maintain your creativity at the same time, and a successful designer would know how to walk this line.
STEP 6- FINISH 
The whole process might take months in some cases, and in some, it might take hours. After you complete your project, you can start taking new clients and repeat the entire process as the same.