Meetings being conducted virtually has now become the new normal after the pandemic. It has now been more than a year since we have been using branded backgrounds for your online meetings for official and unofficial reasons. One main thought we always find nagging is our background. We think of being embarrassed in front of our higher authorities in case something happens by chance. We have had fun watching the online meetings gone wrong videos on all social media platforms. Kids playing football, balls hitting the camera, sudden entry of family members, a heap of laundry to be washed, and many more! It may happen to one of us anytime. What can we do about it?
Why So Serious?
Before we go into what to be done, you need to know the points as to why branded backgrounds are needed for your online meetings other than just being embarrassed. The background you choose to be shown plays an important role in your meeting.
In virtual meetings, backgrounds amplify the distraction of your fellow members. It reduces their focus on you and the points you would like to put forth. It's just human nature to look at what's happening behind. So we can use backgrounds to hide things happening behind us. Zoom and other virtual meeting apps have now created the background changing option. But why branded backgrounds instead of the usual ones? Branded Background is a quick and easy tool for bringing your logo and brand to your Zoom calls.
Branded Backgrounds In Online Meeting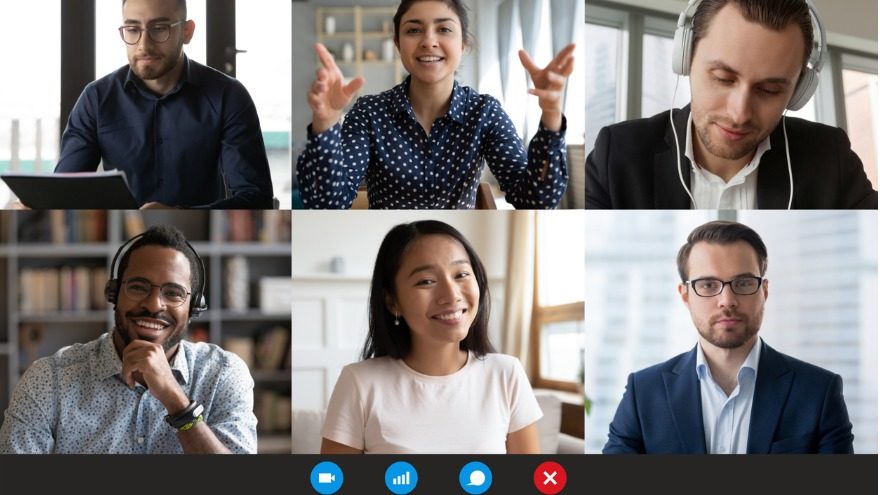 The use of branded backgrounds for your online meetings sets up the right mood for the topic you are about to review. Having an aesthetic background can calm one's mind whereas having a beach background in a professional meeting might question your seriousness on the agenda. Once you come up with a branded background, circulate it with your colleagues so that all of you can have the same background and there will be no source of distraction.
More than anything it would first allow you to focus on your meeting better without worrying about any mishappening about to take place or if your background looks weird. You wouldn't need to check your surroundings frequently and you would always like to maintain professionalism during meetings. You wouldn't want your supervisor to know how shabby your house is! Would you? Branded backgrounds for your online meetings would help maintain uniformity and would make you the center of focus. You wouldn't want others to be focused on your background but want them to focus on your speech right?
Having branded backgrounds for your online meetings would help overcome such disadvantages.
Tips & Tricks
Now that we understand better as to why branded backgrounds are necessary for online meetings, let us know how to present them well. Make sure to have proper lighting so that your fellow members can see you. Make sure that a window isn't placed behind you since only a black silhouette could only be seen. Select a background that matches the topic of discussion. Do not choose a theme that is distractive. Choose the right background that fit your views and the atmosphere of the meeting. Choosing the logo or topic of the meeting as the branded background for your online meetings would help create a serious vibe and would also promote your company. This would create a good impression on your fellow members. You can also choose solid colors suitable to your brand color or use gradients of the same theme.
Further On
It would be better if you stay stationary so that your original background doesn't seep in when you move out of focus. Sometimes some part of your image is also cut out with the background. This would have happened because your original background color would have matched with the cut-out image. To prevent this, try to choose a contrasting original background to your skin tone and dress color in the area you are seated so that only the background is replaced. A green screen is usually used for such reasons because it is the only color that doesn't match any skin tone. But if you are to be seated in front of a green screen, make sure that you don't wear a green dress.
Choose a background color that is contrasting to your skin color. This ensures that you are seen clearly and the background will help others to focus on you. If you have a dark complexion and you choose a dark background, it becomes tough to focus on you since you are dullened. Whereas if you choose a bright background, it makes you stand out.
Wrapping Up
Create your virtual background at a resolution of 1920 pixels wide by 1080 pixels high. 16 x 9 is the default dimension for Zoom and other virtual meeting applications. For the best quality background, save it as a .jpg file. You can choose to blur your background slightly which would increase the viewers' focus on you. It is also way better than the background without blur looks-wise. There are default backgrounds available to use in the apps. But you can always customize your background according to your outfit and surroundings. A few resources you could use to create custom backgrounds are Canva, Unsplash, Modsy, The Verge. These are very easy to use and can prove to be a very great help to you. When you create backgrounds according to the tips mentioned above, you would be a perfect presenter in the meeting!