Ask anyone having even some basic design knowledge and you'll hear "logo represents the business on different levels". And this saying is not wrong when we discuss education institutes and how they implement logo design ideas into their branding. Today, logo for educational institutes is a critical aspect of branding. Institutes use branding to retain their prestigious image in students' eyes and they invest their resources and energies to maintain their position. How well a university has been carrying its branding plan can be judged via its logo design and how accurately the logo for educational institutes represents its values or mission statement.
When seeking the best logo design ideas for your newly started educational institute or revamping an old one, you must seek how the best institutes have done it.
In case you're seeking some interesting & cool education logo design inspirations, then you're on the right page. This post, below, outlines a few creative design approaches when it comes to having a new education logo design for your school, college, or maybe university.
Come, let us walk you through each example and what exactly is the takeaway in that inspiration.
Logo From Liverpool Guild of Student

Let's first look at the Liverpool Guild of Student's logo that merely depicts a flag. The name of the university is quite obvious in the simple typographic pattern in the logo. They went old school in their basic design approach by using a flag as the main design element. And the inclusion of the name is another simplistic approach to make the memorability aspect easy for the readers.
Why they used such the simplest approach for their education logo design?
Well, there is a simple reason i.e., to send out a clear message that they are a place where students can come and enhance their skill set in a competitive environment. Also, the flag denotes a special place that accurately represents the nature of educational institutes. And that's what you should consider while having a new education logo design for your institute, too.
Logo From The Gotham Writers
The logo design is not just about the brand name but also serves an organization's key values.
For instance, The Gotham Writers' education logo design has a very creative aspect infused into its center. Pay close attention to the word 'W' and 'G' and how they form the tip of a pencil nib. And the angle of the tip is upward which suggests the progressive nature of the institute. It is such a wonderful merger of two capitals to form an integral design part that beautifully represents the core function of the institute – to write. And the whole design contains itself beautifully even on different surfaces when the education logo is used for promotional activities.
This showcases their connection with the act of writing itself along with making the name visible.
Logo From Hochschule Bremen (HSB)
When it comes to education logo design, you'll find yourself at liberty to use a lot of concepts for relating the design with the organization's key operations.
One such example is Hochschule Bremen's (HSB) logo design that very beautifully incorporates the addition and subtraction signs. These signs are related to the very basic elements of most of the subjects they teach in Applied Studies.
Logo From Ryerson University
For designing a brilliant education logo, you must not rely on one kind of design element, only!
There are several designs that can offer you the best creative results when incorporated in a strategic way. Ryerson University's logo design not just uses color and typography to its advantage but also uses shapes to leave a positive impact on the viewer. And the blending with correct colors enhances its beauty so well that they can expect a higher branding score.
If you want to add weightage to your institute's name in the education logo design, consider using bright colors as Ryerson University did. This would add a popping-out feature in text and help you in achieving the branding objective on part of the institute.
Logo From University of Illinois Chicago (UIC)
Try giving your logo a touch of the future as UIC did with its vertical logo design. The design projects the university as a progressive institute right from its logo design.
The color selection is a very wise decision on part of the creators as the white color represents purity and brightness. These two attributes beautifully justify the core values of the university as it is a place where people come to learn, polish their skills and leave for a brighter future. And secondly, the institute is open for all without any bias for a specific group. So, the logo design perfectly sums up the mission of the University of Illinois Chicago.
Along with that, the decision to use typography is also a wise one as the logo is easy to remember by the masses without getting into any creative scuffle with the design.
Logo From Windham Woods School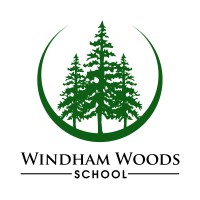 Sometimes your education logo design needs a more realistic approach to relate the institute with something iconic. Look at Windham Woods School and how they've showcased the landmark of the region via its iconic tree view.
Originally, they offer ILP (Individualized Learning Program) format for each student but in a traditional approach. They didn't use any alphabet, they didn't use numbers or symbols, they simply followed what they loved the more, nature. And they simply took the inspiration from the beautiful tree-view to form their logos. Such a wonderful approach to describe one's brand via the most common design idea.
And you can use the same for your brand's education logo, too, for achieving your marketing goals.
Logo From Twydall Primary School
Colors can impact the human brain more powerfully when incorporated in the design with a strategic approach. Twydall Primary School makes use of the colors very creatively to show diversity, zeal for learning, and a cheerful environment. And using Logo for Educational Institutes with consideration of typography to let the viewer memorize their name is a wonderful idea, too.
Be more colorful and fun in your education logo design approach as Twydall Primary School showcases in its logo. The use of different colors can offer our eyes a soothing experience. It also enables to connect with a wide range of viewers, too.