Successful businesses know how important it is to set up a landing page for lead generation & for maximizing conversions. After all, landing pages are responsible for attracting people & converting them into customers.
Due to the ever-increasing competition, you need to keep up with the market needs, or you'll lose out on crucial business. That is why you need to create a badass landing page to boost your sales. And we're here to help you with that.😉
In this article, you'll find what a lead generation landing page actually is & what are the best practices that go into creating one.
What is a Landing Page for Lead Generation?
A landing page for lead generation is a dedicated web page that collects personal information by creating a first point of contact between a business & a potential customer.
Once a lead's contact information is collected, businesses can then nurture the lead through the sales cycle/funnel.
In short, a landing page for lead generation is a place where prospects land after they click on a social media post, web post, PPC ad, etc. People get directed to a businesses' landing page that greets them & persuades them into buying, signing up, or performing the required action.
Best Practices to Build a Landing Page for Lead Generation
Follow the following methods to create a landing page for lead generation & give visitors a great user experience.👍
Simple & Straightforward Layout
A landing page must be attractive & engaging. But don't confuse it with overdoing it. Keep your landing page design simple & straightforward. People lose their attention when burdened with too much information & end up being baffled.
Thus, to build a good design, you should harmonize your color theme, use cool shapes & symmetries & distinguish your texts & visuals to make them easier to read.
Clear & Convincing Body Copy
A good body copy is clear & crisp that does not require losing brain cells to interpret the message. Although in some cases, you might require a longer body copy, but in most cases, you need to have a short copy that sticks to the point.
You can research your target audience & competitors landing pages to better understand what language is being used. After all, words matter & you must convince people to act upon your CTA.
Provide Value
Your landing page acts as a tool for convincing visitors to become your clients. You can attract many customers by offering them value rather than merely blabbing about your product or service.
People are more interested in how your product will help them than how amazing it is. Think for a minute about the benefits your company will provide for your customers. Create your landing page for lead generation with that concept in mind.
You should offer free webinar sessions, whitepapers, or eBooks that your visitors will find helpful. Remember that before you ask people to buy from you, give them something of value.
Use Social Proof
If a product or service is endorsed by other individuals or professionals, consumers are more inclined to act on that recommendation. When crafting your landing page for lead generation, you should leverage the persuasive method of social proof to sway your visitors' opinions. Your landing page's lead generation & conversion rates will be considerably improved as a result.
Some of the most well-liked social proofs you may incorporate into your landing page design are reviews, testimonials, or indications of your brand's popularity on social media.
Reduce Page Loading Time
The speed at which your landing page loads significantly impacts whether visitors stick around or leave. It matters a lot, even if your loading time is delayed by just one second.
Images, user activity, website server/host, hotlinking, plugins, widgets, etc., affect how quickly the page loads. To speed up your landing page loading, try compressing your photos & turning on browser caching.
Optimize for Every Device
Since so many people use smartphones for browsing nowadays, it's important for you to design your landing page that can be easily viewed from all devices. Just sticking to desktops is not enough & you'll end up losing to your competitors who optimize their landing pages for every device.
Design your landing page considering every device so that users experience a smooth road down your sales funnel. Adjust your layouts, CTAs, body copy, imagery & other landing page elements to fit every usable device. Doing so will significantly improve your lead generation & even conversion rate.
Have Clear CTAs
Call to action(CTA) is one of the most significant elements of your landing page for lead generation. Its primary purpose is to encourage your desired action. That is why your CTA needs to be clear & attractive to grab users' attention.
You can adjust your CTA button's placement, color, shape, contrast & other highlighting elements as you see fit to grab the attention of your landing page visitors. Also, you need to make sure your message is clear & simple. Don't have too many CTAs, or your visitors might get confused about what they should do.
A few examples of widely used CTAs for lead generation are: Subscribe, Sign up, Download, etc. When users person that action, you get their personal information which you can fill in your pool of leads.
Perform Tests & Updates
Every element of your landing page is crucial. Therefore, you must analyze each component, whether it is functioning or not. To determine which components are most effective for you, conduct A/B tests.
Optimizing your landing page for lead generation is an ongoing process that you should closely track. It'll help you generate more traffic, leads & conversions.
Try out a variety of headers, body copy, CTAs, graphics, features, etc. Learn the most recent design and business trends to keep up with & beat your rivals.
How to Choose the Right Landing Page Builder?
We hope that you've understood how to build an eye-glazing🤩 landing page for lead generation. Now, let's look into its creation.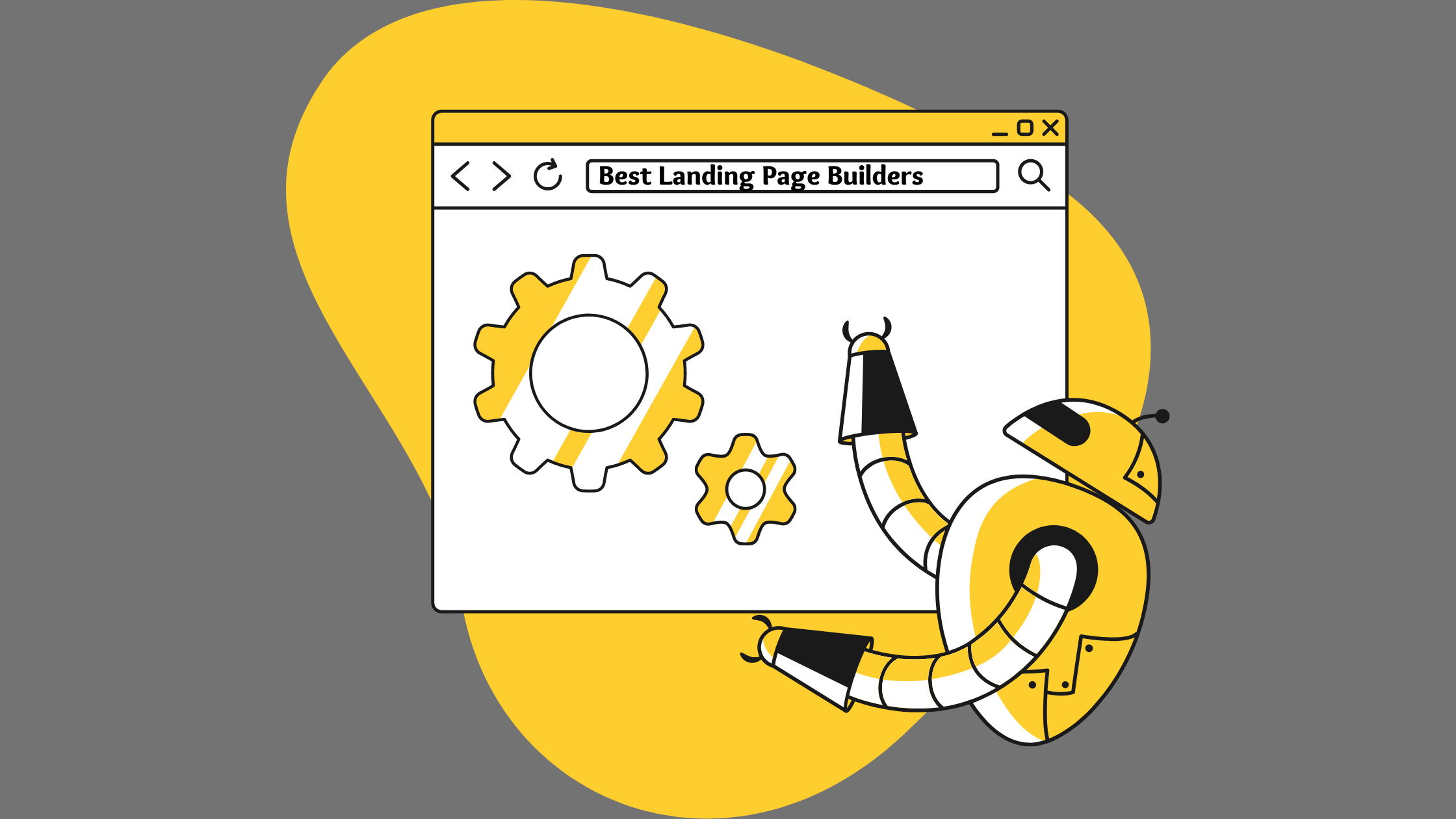 Well, there are many tools available online by which you can create incredible landing pages for lead generation. Many of these tools don't even require you to code, which makes it a very effortless task. However, we suggest you look into the mentioned features you should consider when choosing any builder.
Flexible Drag & Drop Interface
Market demands change quickly on the whims of your target audience & other factors. That's why you need to build & adjust your campaign pages swiftly. In these cases, simple drag & drop interfaces that don't require coding provide quick results without messing up the quality of your landing page.
Integrations
A landing page's primary goal is to produce as many leads as possible. As a result, the product you choose should work easily with your existing CRM and other essential programs. By removing pointless obstacles, such integration will make it feasible for you to store & process data more effectively.
Testing & Optimizing
As previously mentioned in the post, testing & optimizing are key parts of the landing page-building process. It is nearly impossible to achieve the optimum conversion rate on the first try. Therefore, a smart builder should make it simple to test & monitor consumer behavior while also optimizing landing page content on the go.
You can conduct A/B testing directly with the builder or via a third-party interface.
Tracking & Analytics
Almost every builder offers in-built analytics that you can review. However, the data they provide varies from tool to tool. We suggest you decide which KPIs to set in your builder to provide the best results for your goals.
Analytics tools are very important for you to track your goals be it heat maps, old page views, detailed reports, etc.
Get Super Sexy Landing Page for Lead Generation with Draftss😍
Draftss is an UNLIMITED subscription-based service popular for its mind-numbing🥶 graphic & web designing service. So, if you plan to get a badass landing page for lead generation, check out Draftss & find a suitable plan.
We hope that you found this article helpful & understood the key points you need to keep in mind when designing a landing page for lead generation. We've got more information-packed articles you can read on your Blog page.