With just some worthy resources and a few efforts, one has a great opportunity to explore affiliate marketing. Affiliate marketing is a very popular tactic used by a number of businesses to improve sales and generate additional revenue.
What is Affiliate Marketing?
Affiliate marketing is a process through which a business offers its services to the end consumer via an entity that exists in between the two and earns a commission for the services being availed. All that the affiliates have to do is to find a product that is great and promote it in line with the affiliate program of the business.
To make the complete process work smoothly, there are three entities involved at three different steps. The first one is the business that offers an affiliate marketing program. The second one is the affiliate/advertiser/promoter of the products and services of the business. The third and the final entity is the end consumer which avails the service or the products of the business and is brought in the loop through the affiliate.
Running an affiliate marketing campaign can be challenging for businesses. Hence, to make it a better experience and get the best out of it, here's a list of top 10 affiliate marketing software programs that help businesses to run the campaigns successfully.

An all in one platform to track, manage, and optimize referral marketing and affiliate marketing programs. It has been helpful for a number of businesses to increase sales and drive customers.
The tool is specially designed for SaaS businesses to quicken the process of integration, robust segmentation, flexible commission, campaign bonuses, private campaigns, team commissions, and multi-level reward system.
It involves processes like referral management, promotional management, discount management, and is capable to offer a personalized dashboard and increase customer base. The plan starts at just $49 per month with 0% transaction fees and unlimited team members.

This tool enables a business to track and sync lead conversions from any network of affiliates. To make the best out of an affiliate marketing campaign, tracking and recording the progress regularly is very important. Making certain changes to enhance the performance of the campaign as well as modifying it to meet the targets at regular intervals of time is critical.
The only thing you need to do is to insert a line of code known as AnyTrack Tag. This lets you enjoy fully automated data collection and syncing across the marketing channels your business is collecting leads from.
This tool also offers 5000 sessions per month for FREE! It also offers paid plans which start from just $50 per month. AnyTrack also offers a 14 days free trial for all of its packages.
AnyTrack offers integration with all types of websites and funnels builders. It also supports and goes well with all the compliances of the channels like Google and Facebook. However, it doesn't offer any integration support with amazon associates and zapier.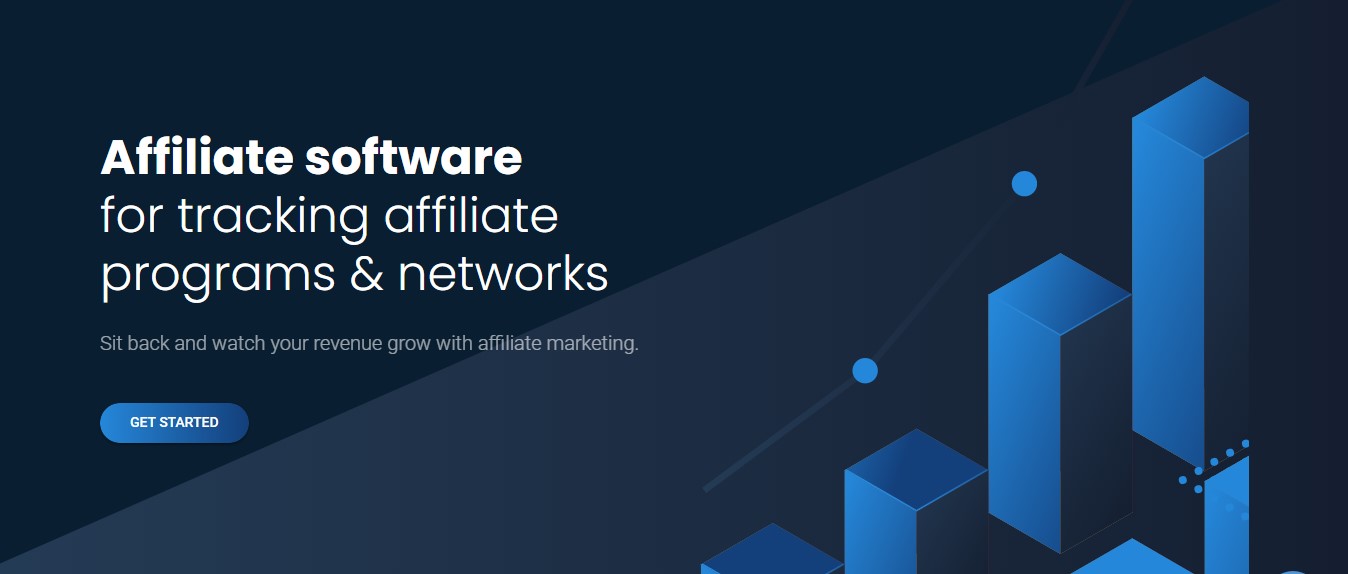 Post Affiliate Pro is an easy and quick solution for new businesses trying to explore affiliate marketing. It lets a business create an affiliate marketing strategy and plan from the scratch and thus is very high in customization.
The tool offers a free integration service and offers a great customer support. It also offers protection from fraud, tracking the data, and commission structures which are highly customizable.
The tool also offers a 14 day trails period and starts at just $97 per month with a pro plan.

This tool can help businesses to grow and network among partners, influencers, agencies, and other networks that can be an asset to the campaigns for the affiliate marketing of the business. The tool lets you automate the complete ad campaign.
Affise seems to be easy to manage and hence is a great solution for new businesses exploring affiliate marketing. Features like smart targeting, comparison reports for better insights, protection against fraud, and flexible payouts make this tool one of the top 10 tools to be used for affiliate marketing.
Its highly rich API is appealing and makes it efficient. Affise offers hassle-free migration, 24/7 support for its clients and customers, and equips them with a dedicated manager. It doesn't offer any upfront trial period but one can be requested and availed. The plan starts at just $299 per month with a pro plan.

With a very simple and plain interface, HitPath offers a very user-friendly option for the business to run their affiliate marketing campaigns effortlessly and smoothly. It offers a cross-pub campaign accelerator, live tracking, and management of the affiliate marketing campaign.
It is scalable as well as highly customizable. The tool also offers a free demo upon request and is very flexible to the customer demands while managing the affiliate marketing campaigns well. It understands well that one size and one solution cannot fit all the requirements of the clients. 
HitPath hence becomes a great option for networks, advertisers, and agencies as well. It also offers one on one training for FREE with live support.

Scaleo is an affiliate marketing software that can be used as an affiliate program or a stand-alone platform that helps companies create an affiliate network. It provides widgets and a white-label affiliate solution that lets users customize the user interface (UI) with their brand logo and color scheme.
Scaleo enables businesses to integrate the platform with several third-party solutions, such as Shopify, Woocommerce, Google Tag Manager (GTM) for Cookies-based Tracking, Tilda, Wix, Big Commerce, Magento, CS-Cart, OpenCart, Squarespace, and more.
This affiliate software offers instant access to a 14-days trial; no credit card is required. Start your free trial right away and get into the affiliate marketing business with a professional solution that will cover all your needs.
7.
Tune

With unlimited affiliates and very good tracing metrics, Tune offers 99% uptime to all of its customers. Especially for the agencies handling the accounts of the clients directly, it serves as a great tool and offers detailed insights and purchase processes.
Tune has a number of plans starting at just $279 per month. It also offers a free trial on signing up on the website. Tune also claims itself to be highly flexible for the industry of affiliate marketing and managing partnerships across mobile and web.
Tune also is highly customizable and flexible. Service like white labeling, personalized dashboards, and user-friendly interface makes it easier to manage campaigns on Tune. It also offers a complete team for the development of custom solutions and technical consulting.

One of the very efficient and intelligent tools specially used for ad intelligence for businesses into intelligent affiliate marketing. It also lets the businesses keep track of the profitable ads of the competitors as well as their eCommerce products & stores.
It starts with a plan priced at $199 per month. Adplexity also comes with a desktop, mobile, and a native option for all the respective traffic needs. It also lets you filter successful campaigns via keywords, advertisers, publishers, and affiliate networks.
Adplexity supports a large number of countries and has a very advanced but easy to use interface. It lets you have a very in-depth insight into the data and filters it precisely.  

CJ Affiliate helps you to drive more sales and expand your brand's reach. It has a pool of big brands and helps those businesses meet their affiliate partners easily. It also comes with a very large network of affiliates which helps to drive bigger results.
The tool stays with the users throughout the buying process of the customer and helps you identify the most influential affiliates.
Support provided for a limited number of countries, it doesn't come with a free trial. The tool offers no upfront cost and the plans are based on the requirements and thereafter the quote is provided.
10.
Awin

With a very huge network of affiliates, advertisers, and publishers, Awin is used widely for valuable marketing insights and affiliate services.
With some of the biggies in the clientele like HP, Emirates, AliExpress, & Forbes, Awin comes as a very credible option for the clients to receive great services and has experience of about 20 years. Awin however can improve its dashboard and interface, users are happy with the payouts and the management services on the platform.

List yourself and earn money – that's what this tool puts forward for its users and this makes it easy for the businesses to find active affiliates on the platform. It lets you manage your affiliate links in a highly organized format.
The plan for Thirsty Affiliates starts at 49 per year only and comes with a license for 1 site. The plans also come with a 14-day refund guarantee with other add on services. There are plans for multi-site owners as well.
The tool is especially aimed to be used by bloggers and affiliate marketers. Although it is a great tool, it is not used to run an affiliate marketing program. It can just be used to manage the affiliate marketing efforts of the businesses.
Therefore, go ahead and kick your next affiliate marketing program like a pro with these super amazing tools. Whether you are an affiliate or a brand, make sure you get the best out of these tools and give a try to find out the best one for you!