Social media marketing is one of the most common tools used by businesses these days. The effectiveness of this option makes it much reliable and sought-after. Almost all sorts of businesses find it useful to market on different social media platforms like Twitter, Instagram, and Facebook. 
Why Social Media Marketing?
Social media has changed the ways in which marketing was done before. It has brought in so many new features and benefits that can easily overshadow conventional marketing means. For example, who wouldn't prefer an image that would repeatedly pop in a potential customer's phone over a hoarding on a road? 
Social media has made targeting and re-targeting of individuals very easy. Earning customer loyalty with almost no direct contact with them is another boon. For small businesses and startups, social media has come like a blessing because they can reach a huge number of people with their advertisements. The diversity of the audience of social media is matchless. It provides data to analyze the efficacy of your marketing materials, which many other forms of ads may not be able to do. This whole process of social media marketing doesn't cost much. All it takes is good graphic designers and a good strategy to reap the best benefits.
But, while designing the graphics for your social media posts, what should your designer keep in mind? 
Be different – The designs that will go on your social media pages should be different from the ones your competitors use. Your designer should create and innovate in such a way that the next time anybody sees a similar design, they should be reminded of your brand. Using standard templates would not help in any way. Graphic designers have to keep their creativity index high.  A good choice of designs and colors would do the job. 

Keep it simple – Complicated and messy designs are hard to look at and read from. They are even difficult to process for the brain. It is highly unlikely that a potential customer who is not even aware of you or your brand is going to spend time decoding your convoluted design on social media. It is easier to just scroll away. 

Good content – The content that goes in your designs should be well-written in a relatable background. It should obviously be legible enough. The lines should be well-phrased without grammatical errors. They should also have texts that can be understood by people of all age groups. Avoid anything offensive. 

Using old images – This is a major problem that most designers face – they do not use relevant pictures of their own. While it may be okay to occasionally use some rare pictures, it should be attempted to use original ones. Using old pictures, again and again, is certainly not going to serve any purpose. 
Common Mistakes While Designing Social Media Marketing Graphics
There are certain don'ts that designers have to bear in mind while making social media posts. These are like warning signs. 
1. Bad writing styles
Many social media posts that we come across have a lot of information filled in it. Because of this, no piece of information is clearly visible. Sufficient spacing has to be provided between lines of text. Suitable fonts have to be used, depending on the type and nature of the product or service. 
2. Lack of space
Some designs have so much in them, that it looks like they are choking. These kinds of designs are going to just be there for the sake of it. No image or text on them is going to reach the audience simply because of the stress it would cause to the eyes that see them.
3. Not using images
There are certain aspects of designs where an image would do more talking than texts. Out of unavailability or lack of patience, it is easy to put up texts. Too much text on a post is going to look like a boring theory. People on social media really don't have the patience to give it a thorough read. So, use images wherever apt. 
4. Random placing
In designs, a certain connection between images and texts is expected. This would make it easier for the viewers to comprehend the advertisement as well. But, if the images are haphazardly placed and texts weirdly inserted, it would look messy. Not just that, it would look asymmetrical and in no way appealing. 
5. Forgetting the platform
Posts for different social media platforms have to be designed differently. A link on an image would not open. It is not possible to insert clickable links on Instagram descriptions. But, Facebook has such a feature. Graphic designers should keep these factors in mind while working.
6. Inconsistency
Graphic designing is an important organ of a business that has resorted to social media marketing. Some of them may even choose an unlimited graphic design package to cater to their ever-growing need to publicize online. In such a case, designers working for companies should be mindful of the type of posts that they are putting out. For the image of a brand to remain in people's minds, there should be certain features of the designs that they can identify with. The case of Amul cartoons is a good example. For ages, their designs for ads have been centered around specific characters. Such an approach would serve well not just immediately, but also in the long run.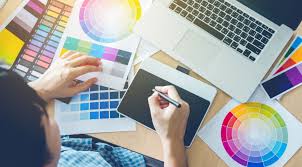 7. Plagiarism
It could be difficult for designers to crack a problem. But, a solution to that can never be plagiarised material. It would not just cause disrepute to the business, but also to the designer. Apart from this, people on social media can easily identify any form of copied material. 
8. Not keeping with the trend
It is going to be worthless for designers to keep pumping standard designs into the social media pages without analyzing the trends. Analytics tools in social media would give good insights and suggestions. 
Keeping these dos and don'ts in mind, graphic designing has to be carried out meticulously in order for the businesses to reap sufficient benefits from social media.