A brochure design is a marketing tool that serves as a summary of your company's services and offerings. It is important to have the right materials in order to produce an eye-catching piece that converts leads into customers. As with many other things, you can make your own brochure or you can buy one. When it comes to choosing whether you should make your own or buy one, there are a few things that you need to think about in order to determine which option is best for your company.
The first thing that you want to consider is whether or not the benefits of buying are more than those of making a custom brochure. This will vary depending on the industry and what kind of budget that your company has available for brochures. A brochure's design revolves around two main components: a cover and the content inside. The design must be attractive, easy to read, and include what the audience needs most – information about your product or service. Brochures are still one of the most effective ways for companies to create leads, establish credibility, and communicate their brand values to their target audience.
Why a Brochure is Important for Every Business?
Brochures are the first impression that a customer receives of your business and are often the deciding factor for whether or not they will continue talking with you. A brochure is an important part of any marketing strategy because it helps provide proof of what you're offering in a clear and detailed way. A brochure is a great resource for both new and existing businesses. It is a marketing tool that can help you reach your target audience in an efficient and cost-effective way. A brochure is a perfect tool for small businesses to use when they want to market themselves. You don't have to spend too much time on it and your target audience will be able to read your message in an easy-to-understand format. Without having any prior knowledge about what you do or need them to do something specific for you.
Basic Elements of Your Brochure Design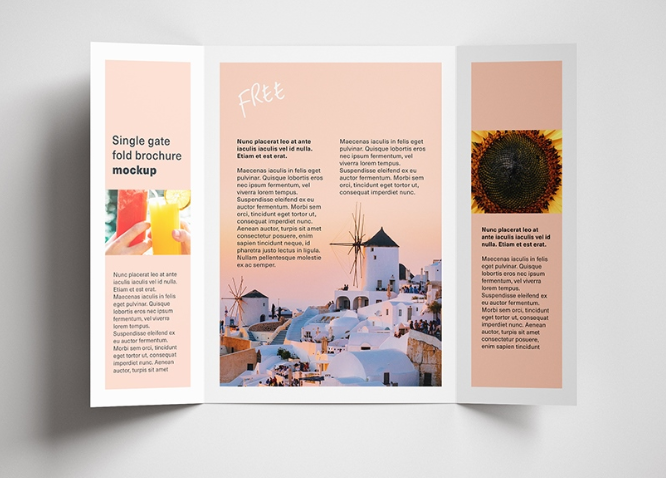 Brochures generally have four basic elements – title, text, background image, and cover image. Each of these elements serves a different purpose in the brochure design. In order to create a good brochure design, you need to know the basics of graphic design. There are some guidelines that you should follow when designing a brochure. It is important to keep in mind that your brochure should look attractive and appealing. Your customers will want to read it from start to end and you have the duty of making them feel as if they can't stop turning the pages. In general, your brochure should be designed in a way that is easy on the eyes and easy for people to read/understand. It also needs to have great ideas in order for it not only to look good but also to work well- with your target audience.
A good brochure design should have these items:
A clear call to action
A compelling headline
Adorable graphics
An enticing color scheme
Types of Content to Include in Your Brochure Content
In a brochure, it is important to include content that is relevant to your target audience. Brochure content is important because it provides a way for businesses to tell their story and get potential clients engaged. There are many different types of brochure content, including text, images, and video. These content pieces should be appealing, helpful, and informative for the reader. The brochure content should be informative, relevant, and engaging. It should also include information that helps the reader get an idea of what the company does in detail.
Here are some types of content you can use to make your brochure a success:
Headlines: Headlines make a statement about what the article will cover
Body Text: This type of text provides information and details about your service or product and includes sections like "Our Offering" or "What We Offer"
A brief summary of the company's history
A list of services offered by the company
Customer testimonials
Content for Experience: This type of content is often a story or an anecdote about your company's history, past, and future as well as testimonials from happy clients.
Content for Value: This type of content includes information about the products and services that your company provides, such as pricing and terms of service. It also includes a call to action to learn more about them.
A Content for Engagement: This type of content includes a creative strategy that will engage readers, such as engaging questions, contests, or quizzes with prizes.
Content for Data: This type of content is often a graph or table that speaks to trends and patterns in data related to your industry, market, or product.
Tips on How to Create Effective Flyers
When designing flyers, it is important to keep a balance of design and content. Choosing a simple design that can easily be read by all of the audience and having informative or engaging content will make your flyers interesting and effective. This can be done by using bright colors or graphic designs with a textured look. It would also be best if you had some kind of call-to-action at the bottom, like "Join our team" or "Contact us for more info".
Make sure that your flyer has a compelling message. This means you should have an idea of what you want your reader to take away from reading the flyer and have them feel motivated after reading it.
Consider design elements like colors, typography, and layout before drafting the content because each will impact how readability changes for readers.
Create messages that are targeted towards specific audiences
Remember that your vision is just as important as the text in any given flyer so make sure that images resonate with your audience's point of view
Conclusion
The most important thing to remember when looking at the future of brochures is that they will still be necessary. Many people find it difficult to create a brochure. This is because there are a lot of emotions involved. It thus requires creativity and effort to get the point across. But with AI assistance, this becomes easier. There are still some things that can't be done without them. Despite the fact that digital brochures are on the rise, it is important to remember that they will not replace traditional printed ones and vice versa. They both have their own benefits and drawbacks. The future of printed brochures is good for customers. They can be recycled while also using fewer resources (paper, ink, etc.). The future of digital brochures is good for online companies. It allows them to create a more personal experience with their audience and consumers.