Every successful business needs good graphic designs. From branding to marketing a website to creating social media posts. Graphics are one of the most crucial elements required for your business. But it's not always possible to find a reliable graphic designer. And paying design agencies might cost a lot of money. So, how will you get quality designs without emptying your pockets? Well, by using an Unlimited design service. 
What is an Unlimited graphic design service, you may ask? Let's find that out below.
What is an Unlimited Design Service?
An Unlimited design service provides you with top-notch unlimited designs with the possibility to do revisions as per your needs & wants. You just have to pay a subscription fee which usually is for a month, 3 months, 6 months, or a year, depending on the service you choose. What's best about these services is that they have a very low turnover time & usually don't take long to give you designs. This way, you get tons of designs with a flat fee instead of paying every time for designs to a designer.
Now keep in mind that many services provide Unlimited designs for businesses. Some of these graphic design services are better than others. Hence, we've compiled a reliable list of 7 Unlimited design services you can opt for in 2023. Take a look!
7 Best Unlimited Design Services to choose from in 2023
1. Design Pickle
Design Pickle is a popular unlimited design service with employees from all over the globe. They offer social media ads, t-shirt graphics, blog graphics & many more services. They have a smaller starter package too if you have lesser requirements.
If you are looking for audio or video editing, this service may not suit you as they purely deliver graphic designs.
Monthly Pricing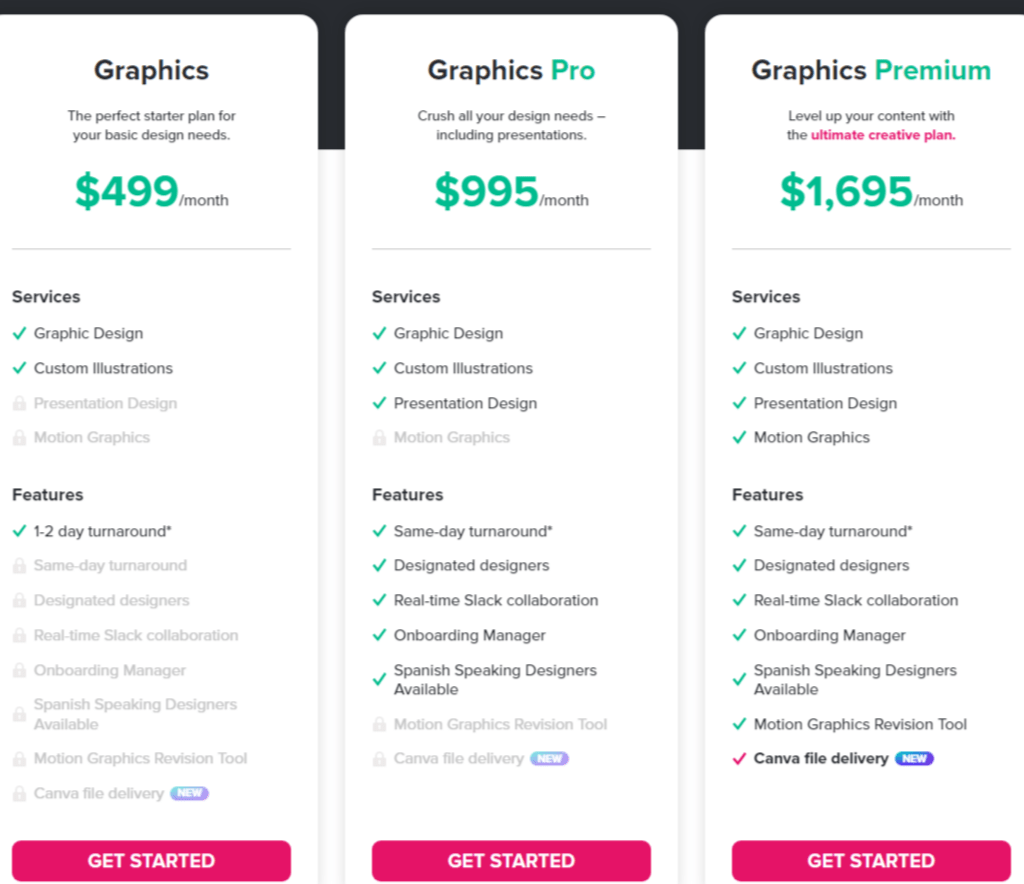 Pros
Transparent Pricing
Easy communication
Not too pricey
Cons
Designs such as illustrations, GiFs, etc., are only available with the Pro plan
Lack of audio or video editing
May require a longer turnaround time unless on the Pro or Premium plan
2. Draftss
Draftss offers 70+ design services, including graphic designs, illustrations, web UI, app UI, dashboard UI, social media posts, branding & many other services.
Draftss has a team of top professional graphic designers, motion graphic designers, coders & illustrators to build your brand. Though they are relatively new in the market, they've acquired a considerable amount of satisfied clients.
Monthly Pricing (Standard/Express)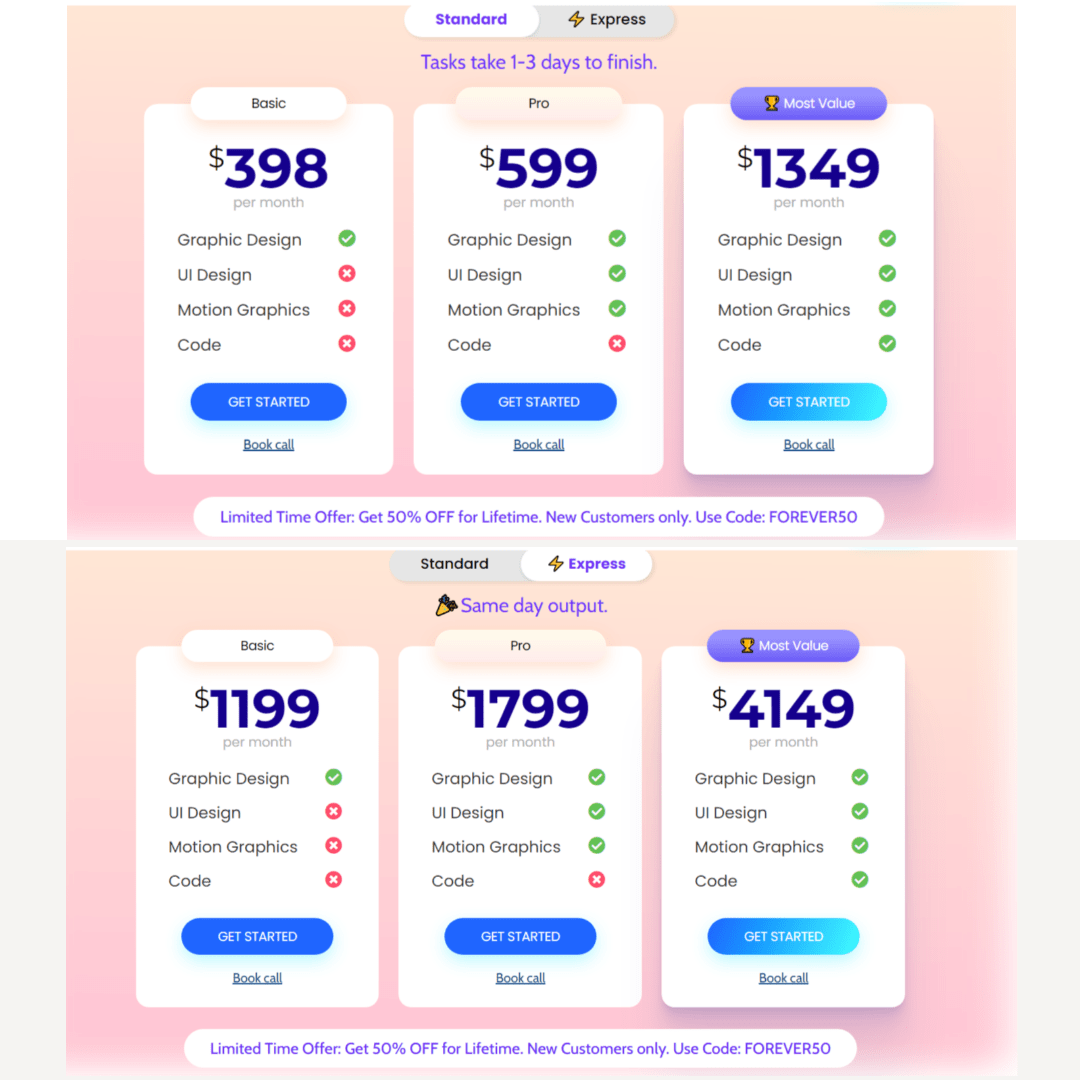 Pros
Seamless communication
Dedicated manager
A fully dedicated team in the Express plan
Affordable plans
Cons
Money-back unavailable
No free trial
3. Penji
Penji offers unlimited design services. They provide over 120+ graphic design services. Their team of professional designers includes people from over 15 countries that bring a huge variety of options & values to your projects.
They have expertise in different scopes, such as website designs, mobile apps, logo designs, UI/UX designs, etc.
Monthly Pricing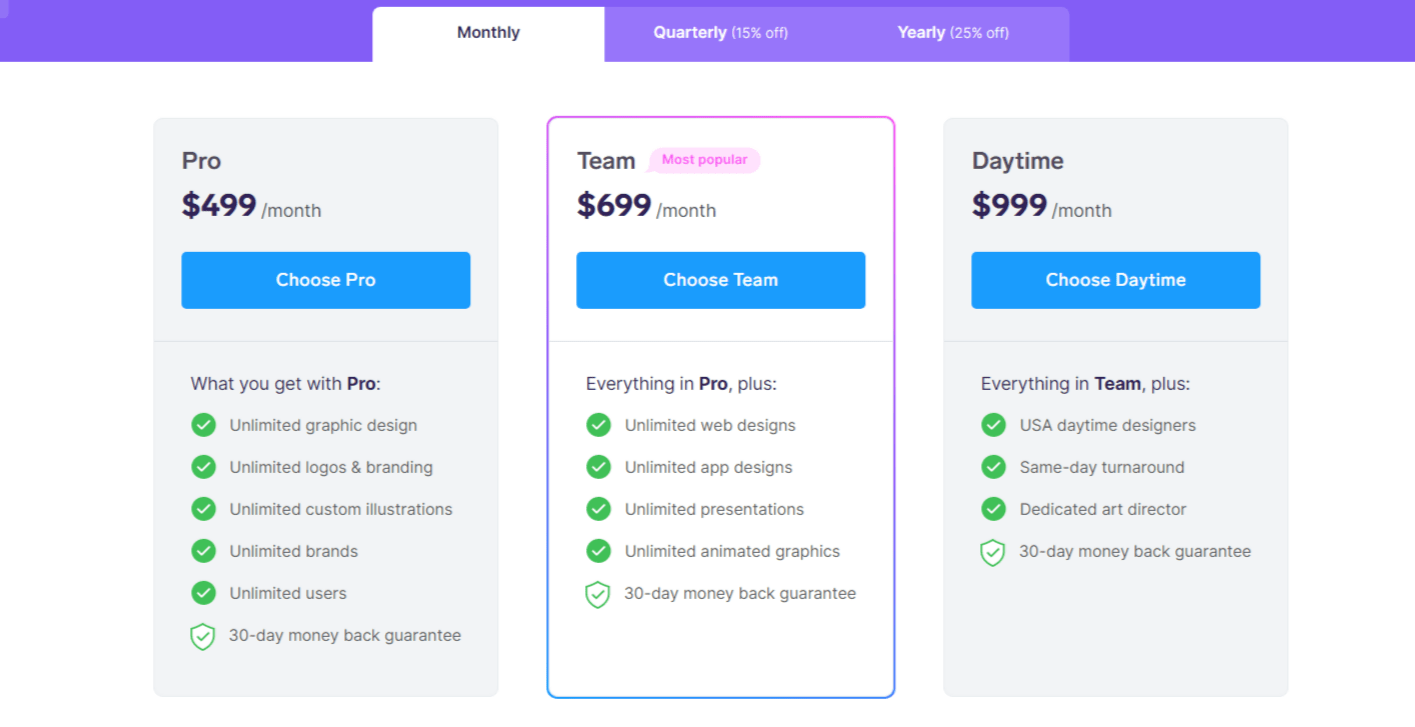 Pros
Monthly, quarterly & year pricing plan options
120+ design services
24/7 customer support
Cons
Designers may not always be available
Phone support unavailable
You might not receive full value unless you need a lot of designs
4. 99designs
99designs work with professional & creative designing experts from all over the world to build your brand. They have a total of about 130 employees. You can choose for higher skilled graphics designers if you want by opting for bigger plans.
Monthly Pricing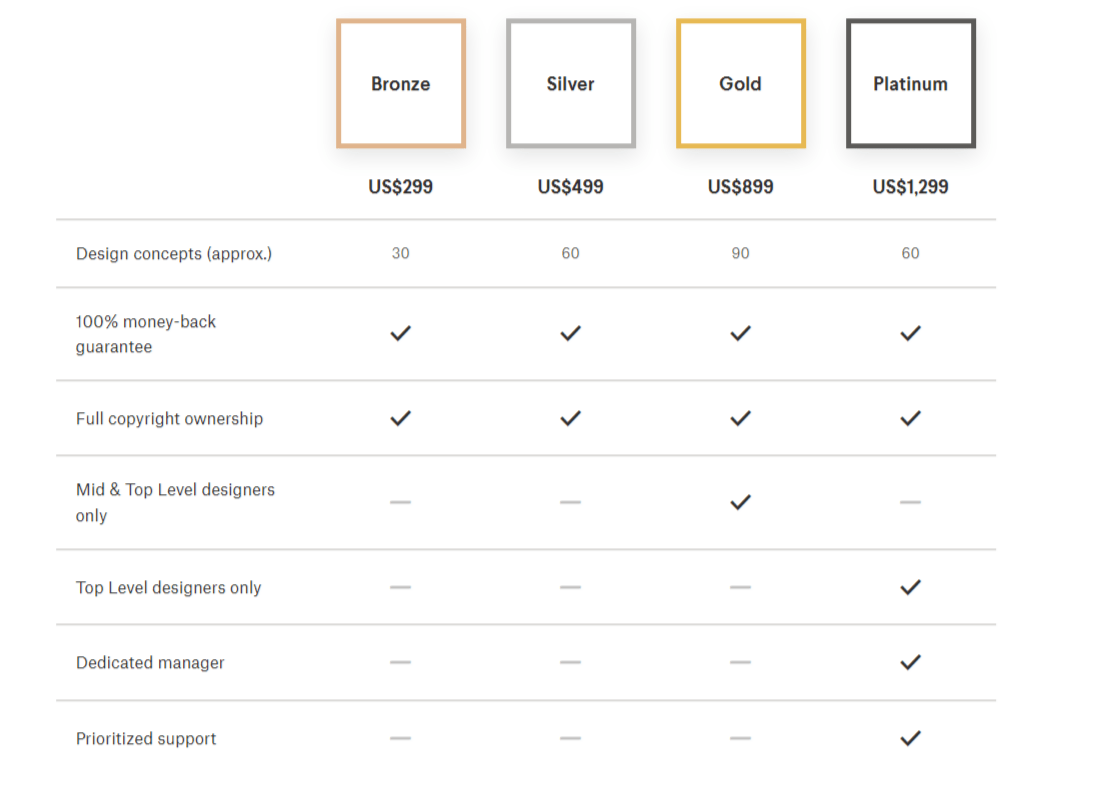 Pros
Full ownership of the finalized design
100% money-back guarantee
Can consult for a free design
Cons
Communication limitations
Need to purchase higher plans to get quality designs
Best designers are not available on the basic plan
Free trial unavailable
5. Delesign
Delesign is an unlimited design service that was founded in 2017. They provide users with almost all the design requirements that a business needs.
Delesign's designers will work on your projects daily for approximately 2 hours. This might not be enough for many businesses, so keep that in mind.
Monthly Pricing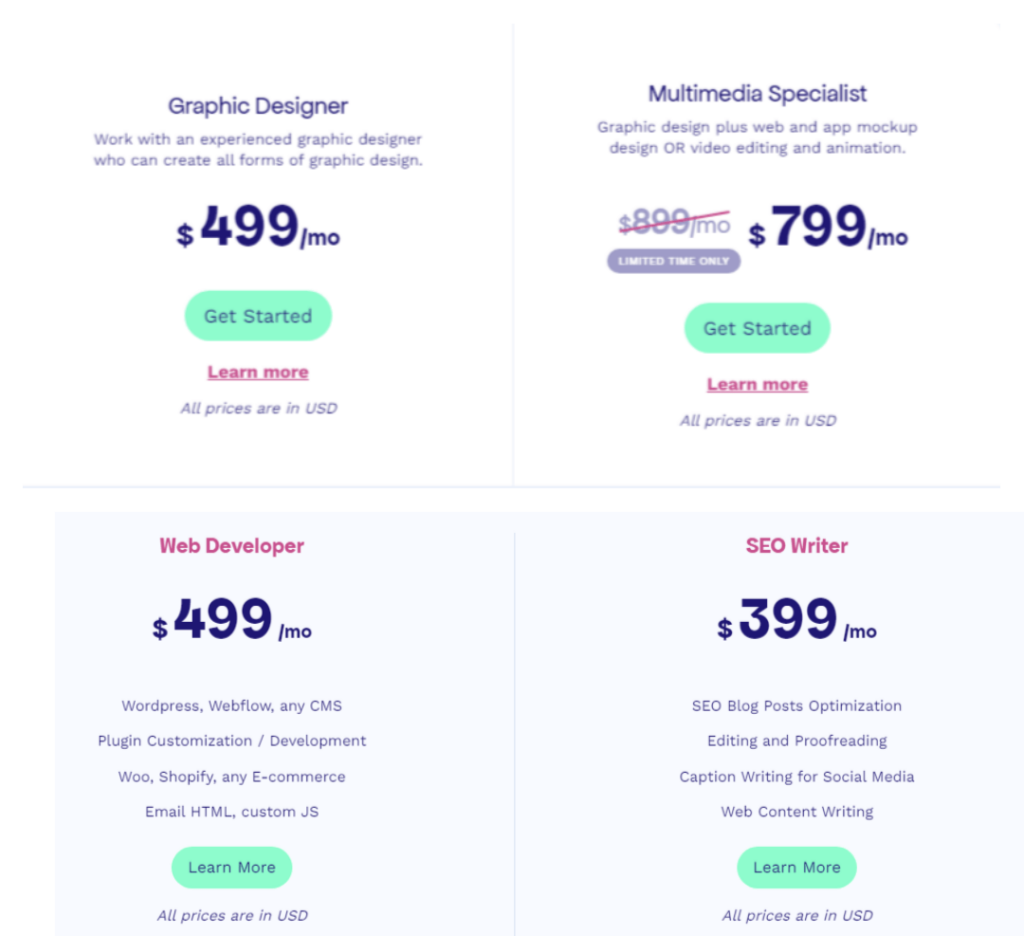 Pros
15-days money-back Guaranteed
A fully dedicated designer
Smooth communication
Cons
Video projects, web & application designs cost are increased by $150
Daily 2-hour limit for working on your projects
6. Many Pixels
Many Pixels was launched in 2018 by Robin Vander Heyden & Quentin Gilon. Through mass promotions on networks & in communities, they created mass awareness.
They have 30+ designers specializing in illustrations, graphics & web designs. You can expect a turnover time of around 1 day for small tasks.
Monthly Pricing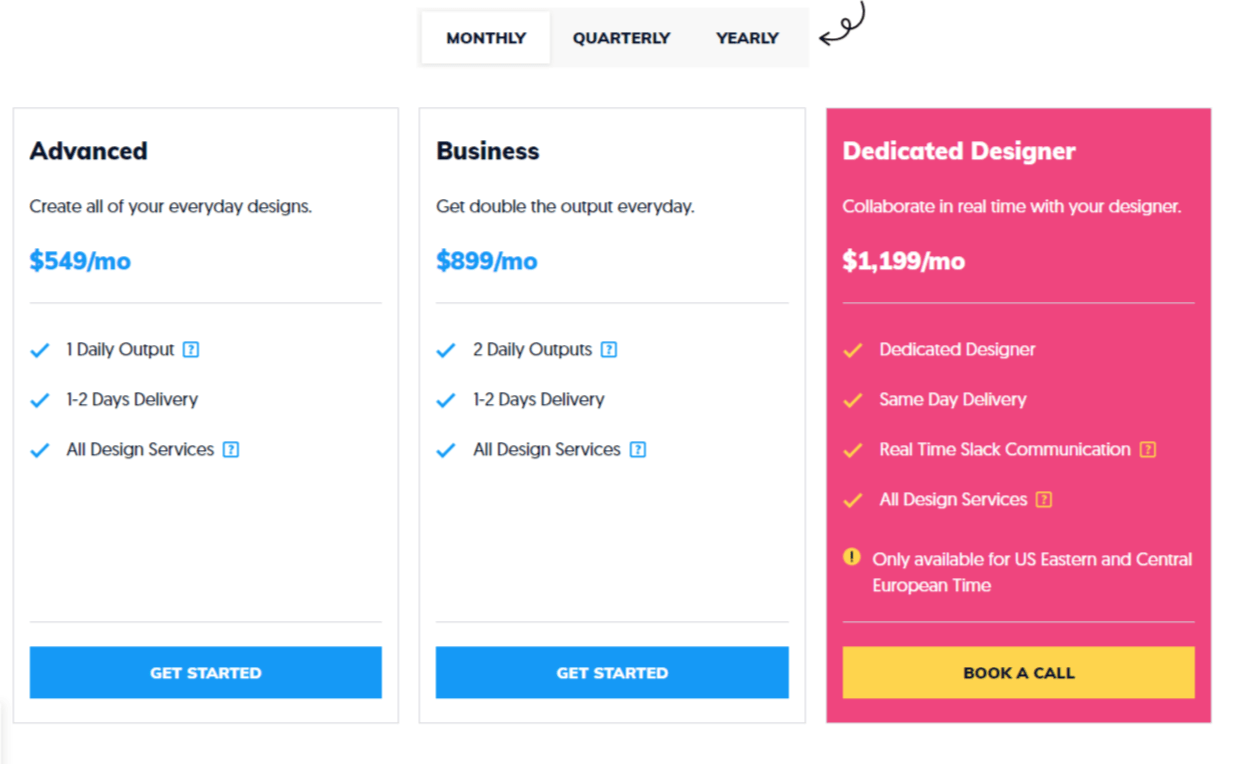 Pros
Good quality designs
Fairly priced
Mobile plus web designs available
Cons
Can work with only one designer at a time
No video editing service
Custom illustrations might require more time to complete
7. Kimp
Kimp offers unlimited designs in not only graphics but also in videos. They have a very swift turnover time of around 1 day for multiple designs. Of course, for only small tasks. Bigger tasks may require more time to get completed.
They have a team of 250+ expert designers from all over the world & offer a wide spectrum of services.
Monthly Pricing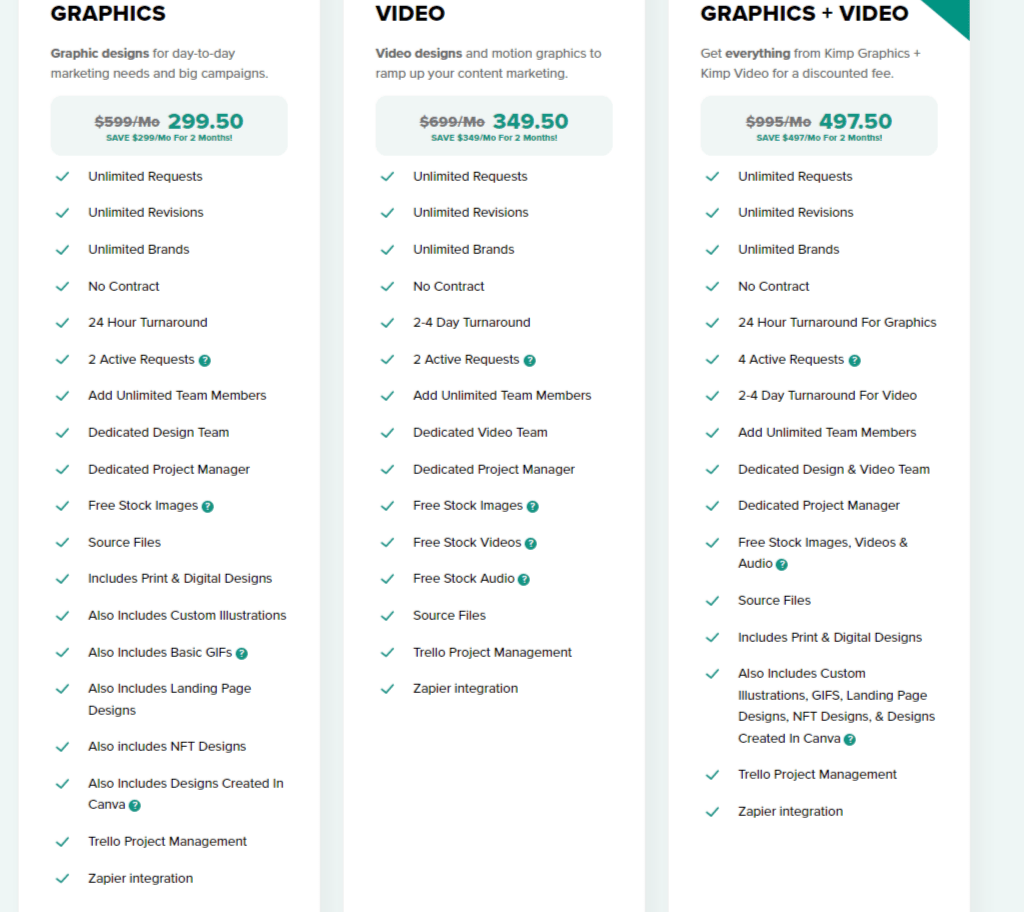 Pros
Clear pricing plan
Customer support is very cooperative
7-day free trial is available
Cons
Need to download Trello to manage your projects
Can be messy to manage communications as they only have emails as a medium of communication.
Unlimited Design Service with Draftss
If you choose Draftss for designing your projects, you get MIND-NUMBING designs with a very short turnover time. This way, you don't waste time. You also can choose from a wide range of designs such as-graphic designs, UI designs, motion graphics & code. The best thing about Draftss is that you get all these services at super affordable rates.
We've for you covered with more such informative blogs. Feel free to check our blog page & let us know which of these services you think is best for your business.